It's finally the end of the year! So… what's our favorite year-end tradition we always look forward to the most?
No — it's not the holidays! (Though those are nice too, of course).
Why… it's year-end "Best Of" lists, of course!
We at team This Way! proudly present our "12 Best New Boardgames of 2021."
We gave each game one of three categories, including Innovative & Thematic (two things we strive for in our own games), as well as a category for Expansions.
So without further ado, here are our 12 Best New Boardgames of the year (in no particular order)…
---
UNSETTLED
(Innovative)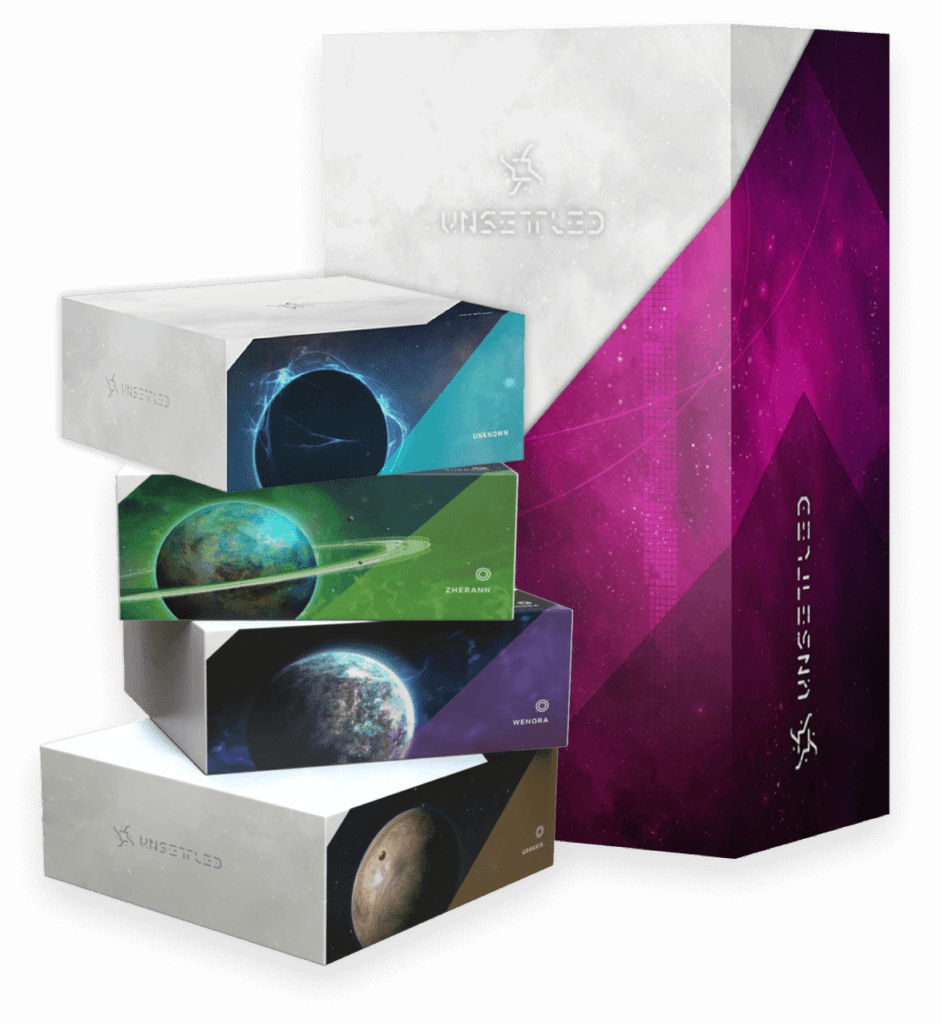 After delivering the fan-favorite debut game of Vindication, it became quite clear that you can depend on Orange Nebula games to feature gorgeous art & lavish productions.
With their sophomore entry, Unsettled, ONeb takes us to the far reaches of outer space. It's sci-fi in its purest form, where players don't do combat with aliens, but rather they must cooperatively work together in order to get off of strange new planets alive!! (But… it's likely they'll die).
Unsettled's unique "base framework" was an absolute jaw-droppingly gorgeous production, with multiple GameTrayz that lift out in an organized manner, allowing you to get up and running with a new game in no time. Then there's the varying planet boxes, with completely different environments and objectives, that you basically "plug and play" into the framework — it's honestly the coolest innovation we've seen all year.
Designers: Marc Neidlinger, Tom Mattson | Artists: Bartek Fedyczak, Krista Zimmerman
---
SLEEPING GODS
(Thematic)
After such titles as Near and Far, Above and Below, and Roam, designer/illustrator Ryan Laukat gave us yet another masterpiece in narrative storytelling from Red Raven Games!
In Sleeping Gods, 1-4 players take on the role of Captain Sofi Odessa and her crew, who are lost in a strange world on the steamship Manticore nearly a century ago. Working together to survive, you will explore amazing new lands while meeting new characters, all while seeking out the totems of the gods that are the key to you and your crew returning safely home.
Sleeping Gods is a beautifully illustrated exploration campaign full of hidden treasures, compelling characters & wild adventures! The great thing about it is that each session can last as long as you want, and there's a remarkable save system that allows you to jump back into the same place you left off when you're ready to play again.
Designer/Artist: Ryan Laukat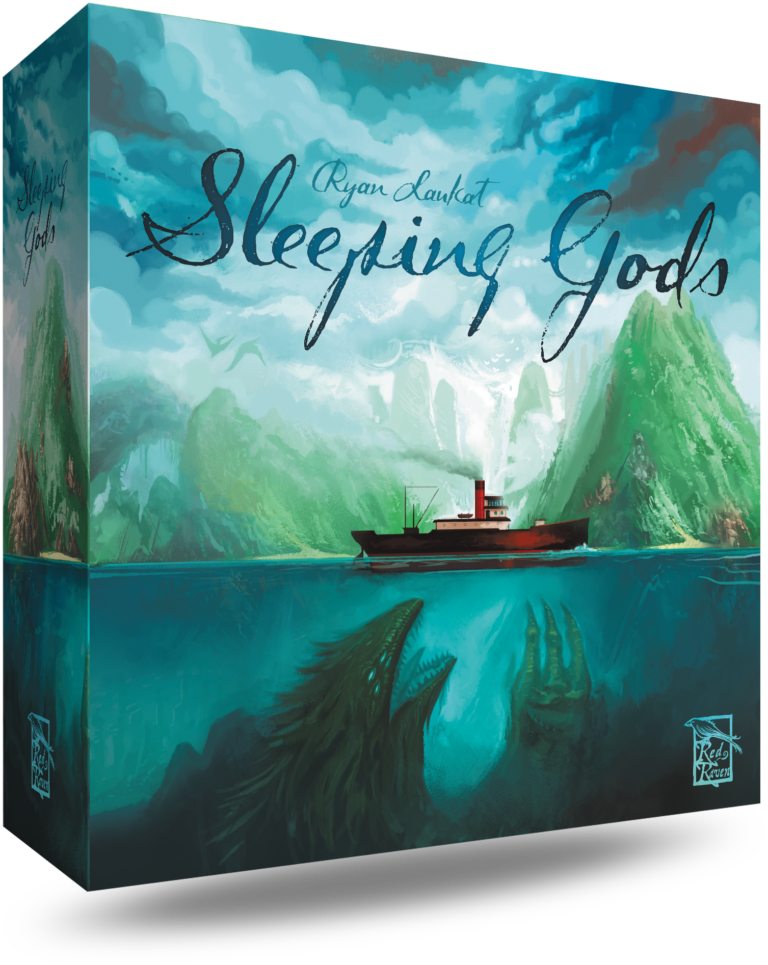 ---
LOST RUINS OF ARNAK: EXPEDITION LEADERS
(Expansion)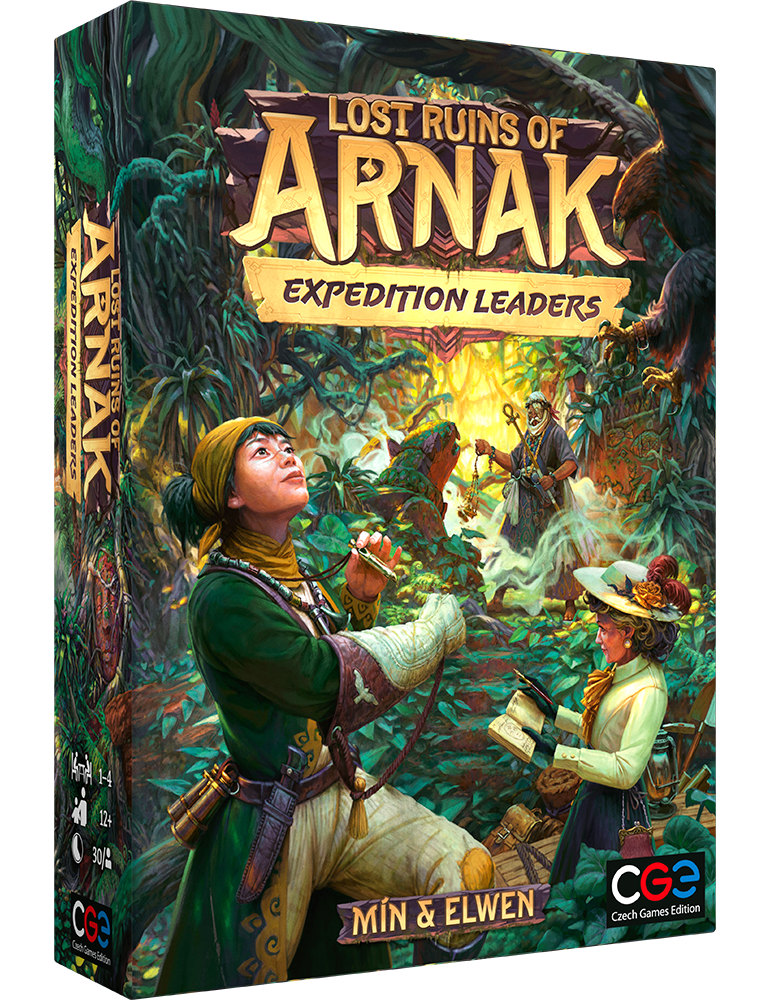 Czech Games Edition's award-winning exploration game Lost Ruins of Arnak has been one of the most well-regarded games of the past year. It was hard to imagine how the tight deck-building, worker-placement hybrid could be improved, and yet… Expedition Leaders not only enhances the base game in such a beautiful way, it really supercharges the gameplay!
The expansion not only offers more artifact and item cards, guardians, locations and assistants, but it also delivers SIX brand new asymmetrical player characters (each with their own player boards with varying abilities, and custom starting decks). If that wasn't enough, the expansion also comes with 2 exciting new research tracks.
The whole package delivers loads of variability and options — we honestly don't see ever playing a game of Arnak now without it!
Designers: Mín & Elwen | Artists: Jiří Kůs, Ondřej Hrdina, Jakub Politzer, František Sedláček, Milan Vavroň
---
DUNE IMPERIUM
(Thematic)
We are huge Dune fans here at This Way!, but that wasn't the only reason we chose this tense game from Dire Wolf.
Deck-building/worker placement games have suddenly become quite popular lately (see Arnak above, and Endless Winter which was crowdfunded this year) — but Dune Imperium distinguishes itself from the rest in a couple of ways.
Unlike traditional deck builders, players (who take on the roles of unique leaders) don't play their full hand in one turn. Instead, they take turns playing cards that can move their agents to certain spaces on the board. When there are no more agents to place, players take a "reveal turn," revealing the rest of their hand — this provides them with either Persuasion (to acquire more cards) or Swords (to help your agents fight for the current rewards of the round). Yes, there is combat in this game!
Designer: Paul Dennen | Artists: Clay Brooks, Raul Ramos, Nate Storm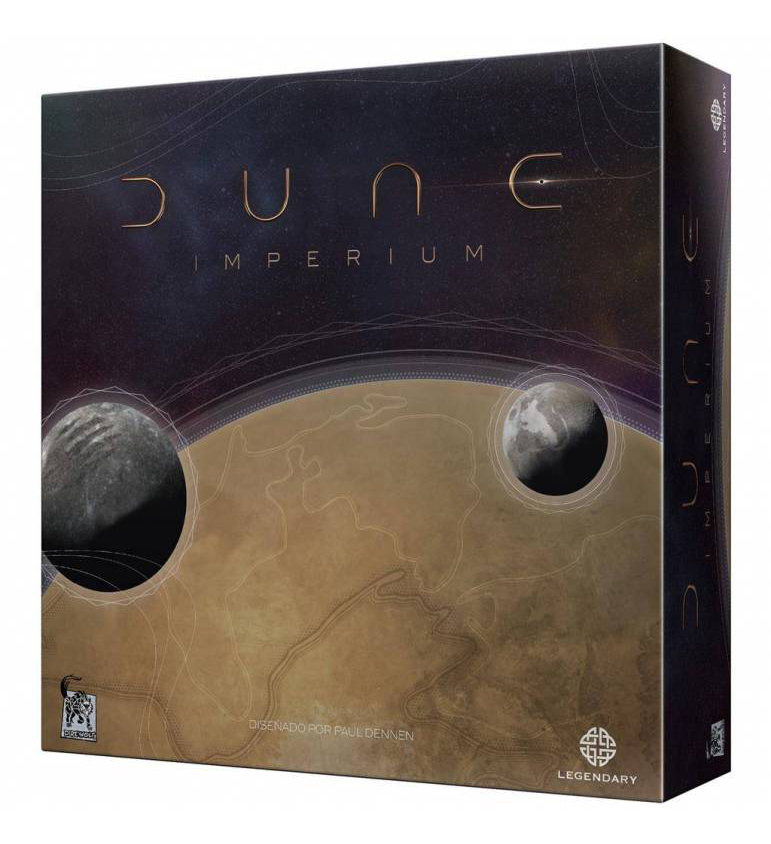 ---
DESTINIES
(Innovative)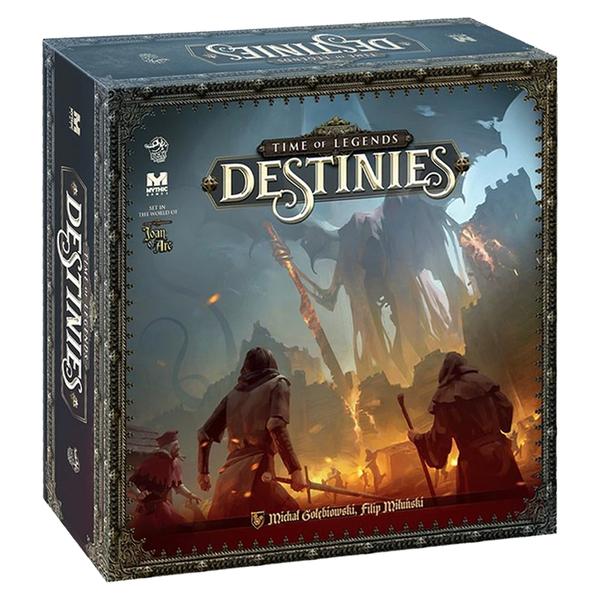 Lucky Duck Games previously introduced their clever QR-code-scanning technology in their various Chronicles of Crime series.
Now, with Destinies, that technology takes a whole new leap in storytelling gaming. Unlike Chronicles (which was a cooperative game where players would solve a crime together), Destinies is a competitive game (for up to 3 players), where each player chooses a unique character with two different possible "destinies."
The narrative adventure/exploration game uses beautiful map tiles (that are placed in a certain way, with the assistance of an app), delivering an RPG-like experience without the need for a game master.
Players move their minis across the landscape, interacting (via the app) with various townsfolk, monsters, deities and more, as they pursue one of their chosen destinies (which may or may not overlap with another player's choices).
Designers: Michał Gołębiowski, Filip Miłuński | Artists: Karolina Jędrzejak, Magdalena Leszczyńska, Irek Zielinski
---
IN TOO DEEP
(Thematic)
In the last few years, Burnt Island has quickly become known for their impressive games featuring quality components and unique gameplay. After Endeavor: Age of Sail, and In the Hall of the Mountain King, the publisher takes us to the cyberpunk future of New Dawn City — a place that is struggling with the new crime wave brought on by a batch of cyber-enhanced criminals known as the Syndicate.
Players play members of a secret organization that has developed a new method of "hooking" into the tech of these criminals, in order to control them. The beauty of this game is the unique way it mixes mechanics and theme. The more you "gain grip" (control) of these criminals, the better you're able to complete their objectives (which brings you closer to foiling the "big plot" of the Syndicate.
The danger is that by controlling these criminals, you run the risk of going "in too deep" yourself. You want to advance in order to win, but the player that goes too far runs the risk of a big penalty… unless they can get away with it!
We can't stop playing this completely original game, that brings a new way of playing we haven't seen before!
Designers: Josh Cappel, Daryl Chow | Artist: Dominik Mayer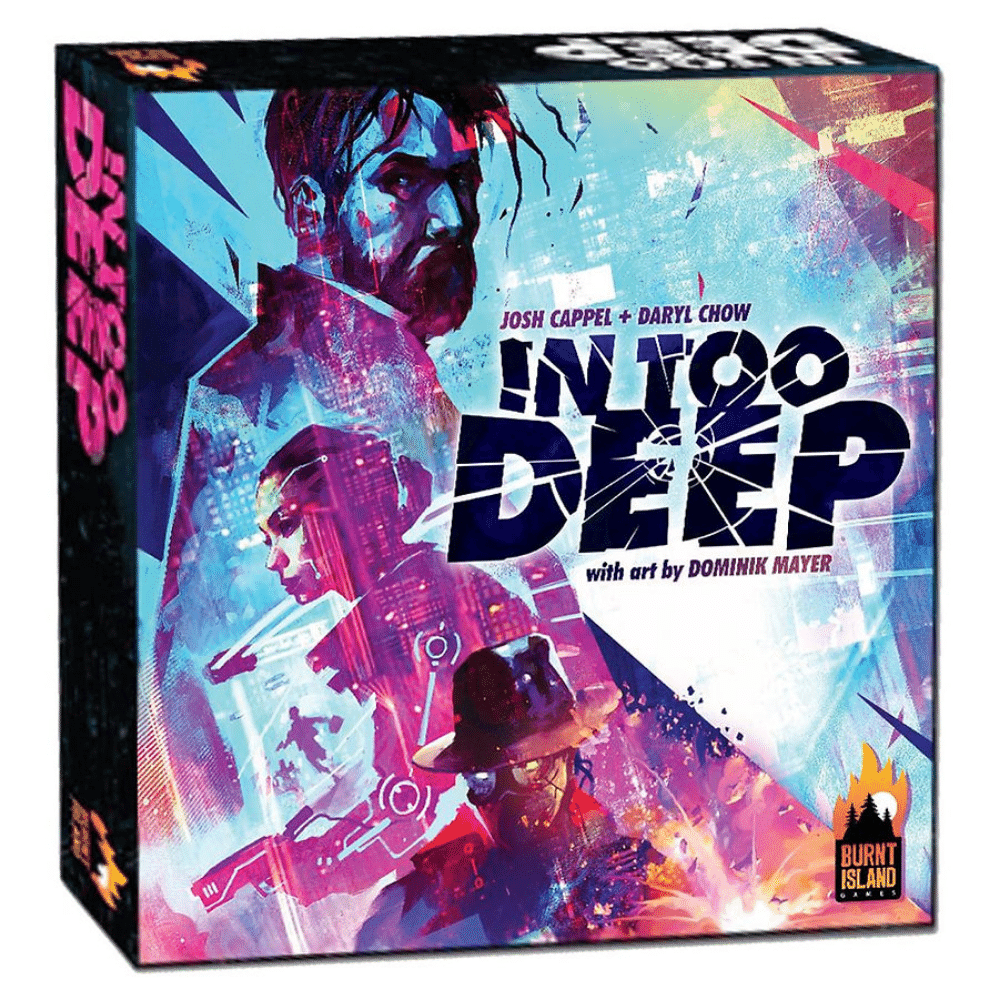 ---
PARKS: NIGHTFALL
(Expansion)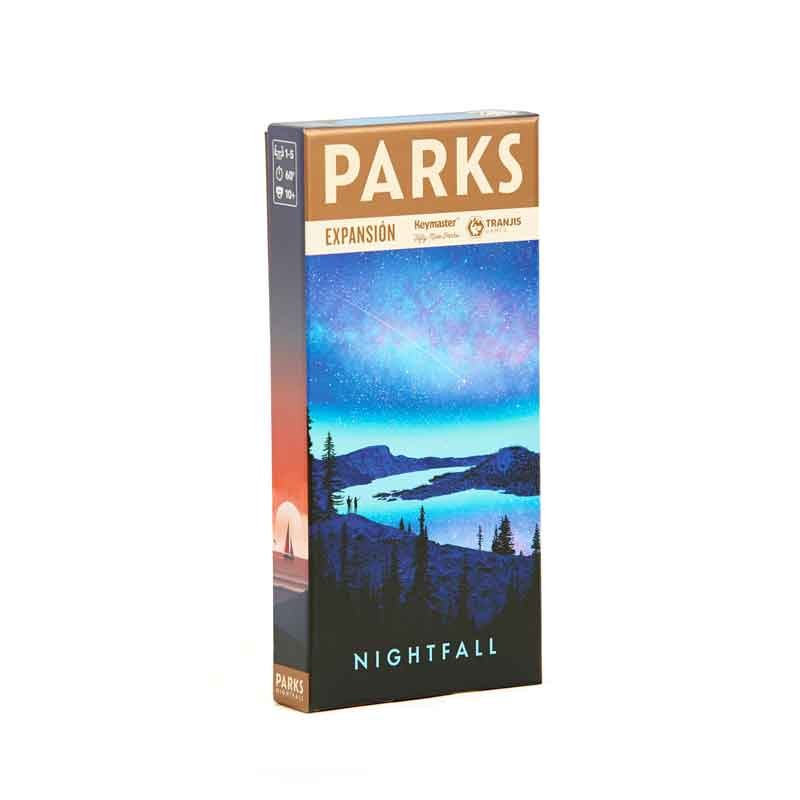 Parks — a surprise hit by Keymaster Games when it was released in 2019 — is easily one of the best games of the past decade. Featuring gorgeous art from the Fifty-Nine Parks series, and drool-worthy components and GameTrayz, Parks had players take on the role of hikers as they trek through different trails during four season of a full year.
Players could buy helpful gear, take photos along the way, and collect resources that would allow them to visit Parks (which would score them points).
Nightfall is the first expansion to Parks that enhances the base game just perfectly: introducing new Year cards (the secret end-game objectives — now cumulative — which you can get more of during the game), plus tent tokens along the trail that allow the choice of taking powerful new campsite actions. In addition, Nightfall completes the missing art/parks from the Fifty-Nine Parks series that weren't in the base game, while also introducing new "instant actions" you can get when visiting them.

All in all, this is a must-have expansion for any Parks fan!
Designer: Mattox Shuler | Artists: Various, from the Fifty-Nine Parks Print Series
---
THE LOOP
(Thematic)
Originally released ONLY in France last year (by Catch Up Games), Pandasaurus Games (Dinosaur Island, Machi Koro, Trek 12) has brought this quirky time-traveling cooperative game to rest of the world with their own release of the game in 2021.
Players battle the evil Dr. Faux — who has built a terrible time machine — throughout time itself. Faux has sent an army of his duplicates throughout the ages, with the ultimate plan to become master of the universe.
Players are Temporal Agents tasked with stopping the evil Dr. by any means possible, including the use of clever card play and quirky (but powerful) artifacts. By mastering the cards that they have, players can create an impressive LOOP, using them multiple times to create powerful chains. 
Featuring a wonderfully tongue-and-cheek rulebook, The Loop is a super fun, zany & highly original game for co-op fans!
Designers: Maxime Rambourg & Théo Rivière | Artist: Simon Caruso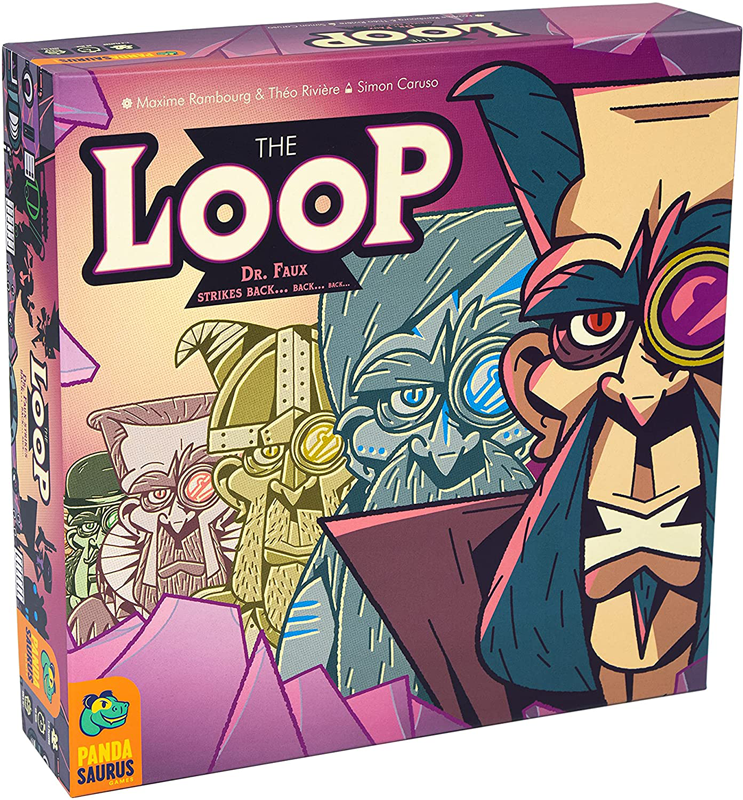 ---
CANVAS
(Innovative)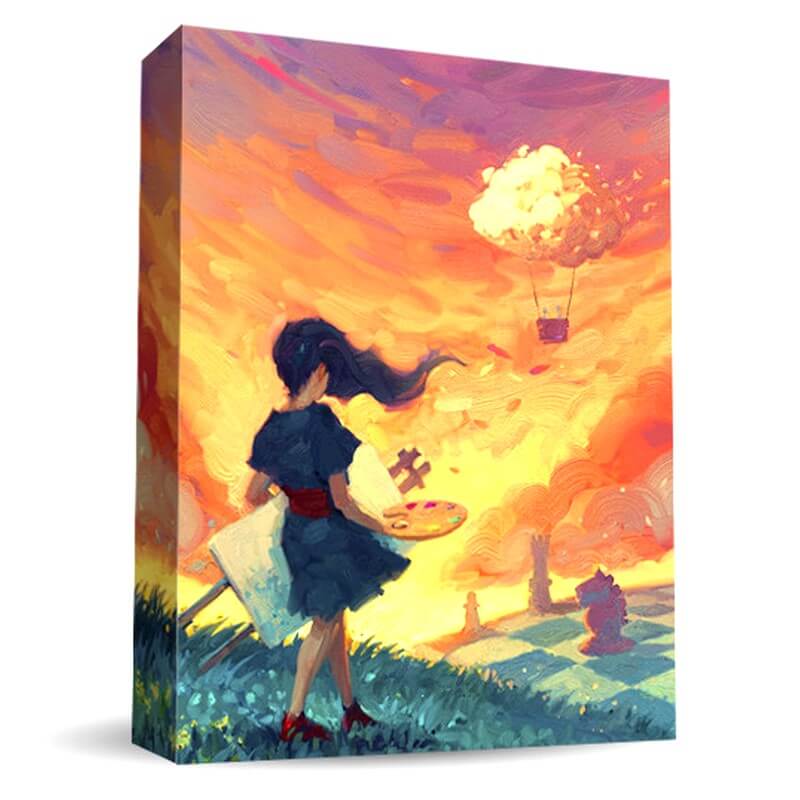 Ever dreamed of being a painter?
In Canvas, you play as a painter competing in an art competition!
Road To Infamy Games created a truly innovative way of bringing out the artist in all of us, with the clever use of transparent overlaying cards to create works of art. Not only is the order of which you lay the cards important in terms of the masterpieces you create (which will also create a unique title for your creation as well), but the way the icons on each card are shown (or hidden) and ordered will ultimately determine whether you met certain art criteria objectives.

This is how you win awards and score in the game, and the player with the most awards become the ultimate winner — and Best In Show in the art world!
Combining thinky mechanics + beautiful imagery? What can we say…? ::chef's kiss::
Designers: Jeff Chin & Andrew Nerger | Artist: Luan Huynh
---
DEMETER: AUTUMN & WINTER
(Expansion)
Demeter, by gaming company Sorry We Are French, is a lovely flip & write game set in the same universe of their previous game, Ganymede. It combines two things we absolutely love: sci-fi & dinosaurs.
Playing a scientist, you have just boarded a ship departing Ganymede to one of the moons of Demeter (a red dwarf planet), where the presence of dinosaurs has been discovered! Your goal is to study these marvelous creatures in their environment, scoring mission points.
Autumn & Winter is the perfect kind of expansion that we love, enhancing the base game beautifully — adding in new mechanics and objectives, as well as solo and multi challenges/bonuses.
Designer: Matthieu Verdier | Artist: David Sitbon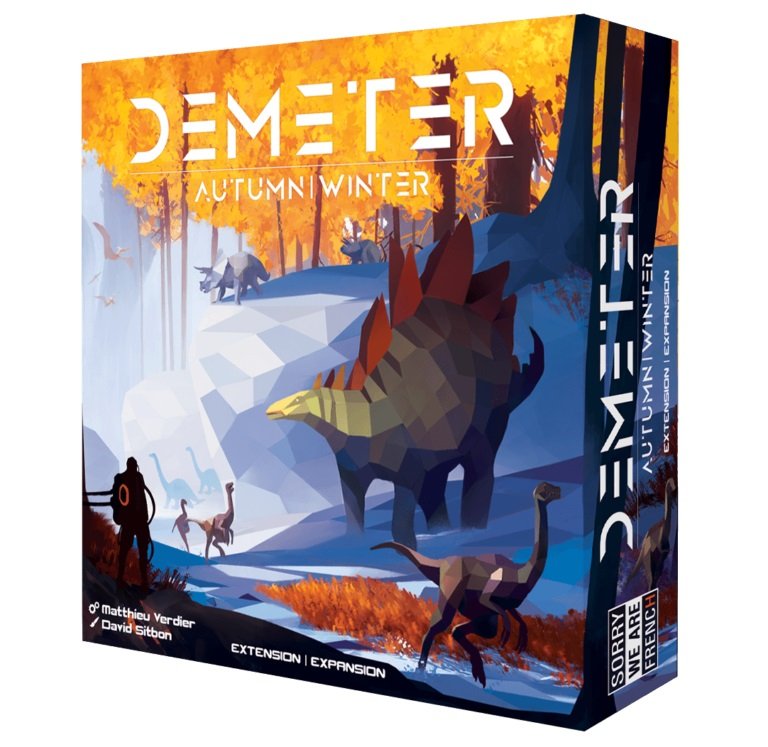 ---
CARTOGRAPHER HEROES
(Thematic)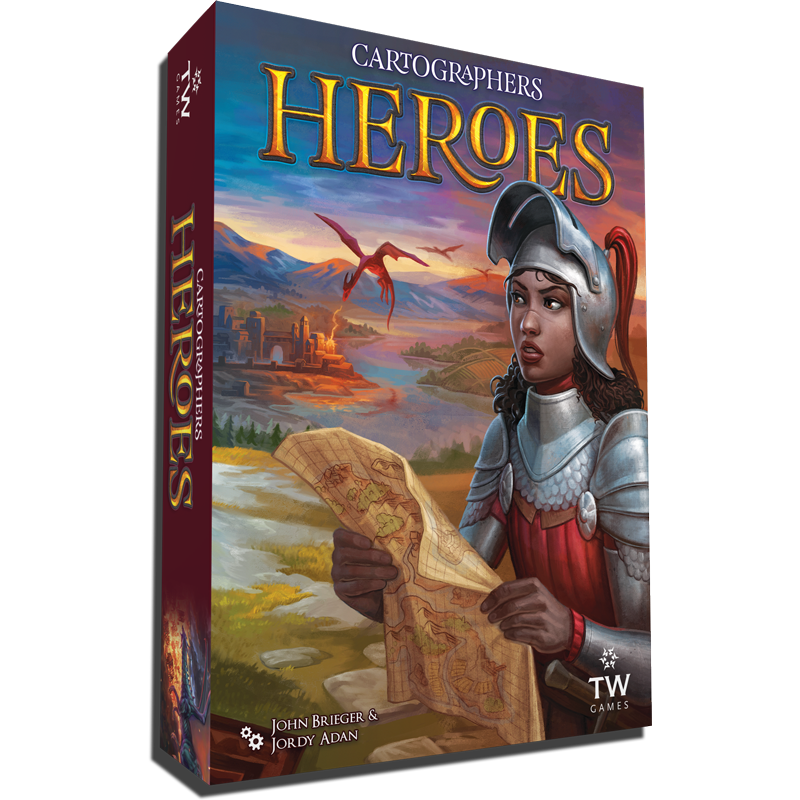 The much-anticipated sequel to Cartographers did not disappoint!
Cartographers was the flip & draw game from Thunderworks Games that everyone was talking about in 2019! As a cartographer in the Queen's service, you are tasked with mapping out the territory in the northern lands that she is reclaiming for the Kingdom of Nalos. Players compete to earn the most reputation stars within four seasons by carefully drawing on their map sheets and carrying out the queen's edicts, in order to be declared the greatest cartographer in the kingdom!
Heroes — which is a standalone version of the game that can also integrate with the previous version — is just as fun and beautifully produced as its successor, but with all-new maps, scoring & explore cards. Plus… ambush cards with unique abilities!
Designers: Jordy Adan & John Brieger | Artists: Jordy Adan, Davey Baker, John Brieger, and Lucas Ribeiro
---
MIND MGMT: THE PSYCHIC ESPIONAGE "GAME"
(Thematic)
Based on the incredible mind-bending comic by Matt Kindt, Mind MGMT is an absolutely brilliant debut game by Off The Page Games.
This is a 1 vs Many game where one player takes on the role of the Mind MGMT Recruiter, secretly making a path through the city of Zanzibar while scouring for new recruits. All other players take on the role of psychically-powered rogue agents out to capture the Recruiter and put an end to the organization's nefarious goals.
Taking hidden-movement games to the next level, the jaw-dropping presentation features tons of hidden messages and surprises secretly scattered throughout the components, box and even trays. But the best part? The unique SHIFT system. Whichever side loses gets to open a sealed package that not only contains an original new mini-comic by Kindt, but also new components and rules that can give the losing side an advantage for the next game.
Designers: Jay Cormier & Sen-Foong Lim | Artist: Matt Kindt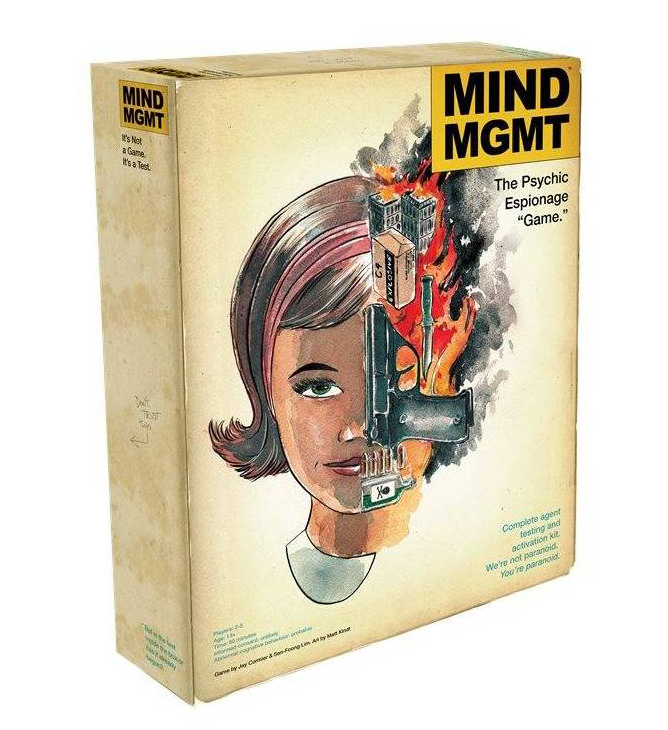 ---
Thanks to all the designers, artists and publishers of these amazing games for filling our year with so much gaming joy. 😊
There were so many other fantastic games that didn't quite make this list, and we really wish we could have made a Top 100 list (but that would have been a lot of work 🤣).
All in all, it was truly a great year for Board Games!