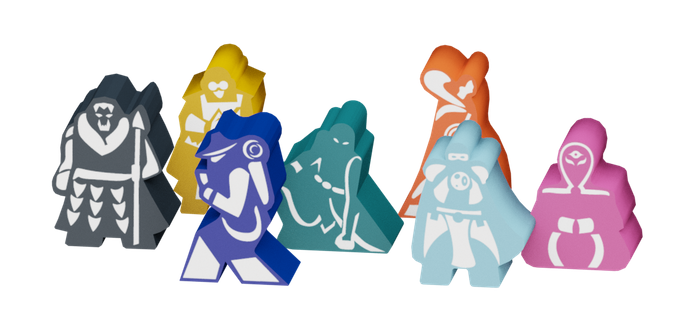 EXPLORERS OF ICY LANDS, ❄️
The Council of Elders met during the night and at dawn a request was made to the Alchemists' Guild… The production of a new glacier progression hexahedron!
---
AUGUST 4
---
⏣ The request comes directly from the Council! It is to facilitate access to the Valley of the Ancients for future expeditions… And in particular access to the deepest glacial levels. We know our materials perfectly well, but the alchemy that must be performed is still partly mysterious. Our watchword remains invariably the same: absolute quality of execution!
Relyt (Alchemist ⏣)
---
Happy "Start of GenCon" for those that are attending the boardgame industry's biggest event in the U.S.! We're sad not to be there this year, but it didn't make sense to attend when we didn't have actual games to sell yet. You can be sure we will have a presence there next year, however! For those that are going, enjoy! Play lots of games for us. 😊
In this month's update, we'll be re-introducing our rulebook, giving an update on production, and introducing the trailer for our upcoming game:
F O U N D E R S
Enjoy the read and please feel free to post any question in the comments section!
FINAL RULEBOOK FOR I C E!
"Wasn't there already a link to the rulebook in a previous update?", you say. Yes, there was — but it was before we had made some final adjustments to two of the Guild abilities. The final version can now be found on the official BoardGameGeek page: 🥳
https://boardgamegeek.com/filepage/243720/i-c-e-rules-english
And we continue to remind everyone that you can play the game right now on TabletopSimulator HERE.
PRODUCTION UPDATE
With digital proofing done, and pre-production underway, the next step will be getting a "White Sample" from Panda Game Manufacturing (which will be the game produced in its entirety, but in an all-white version with no art/graphics — this is a typical step in the game-making process to ensure that all of the components are of the proper sizes, shapes, materials, etc.).
Since we don't have that white sample yet to show for this update, we wanted to show you something to savor. So take a look at some 3D renders of the beautiful components! 🤩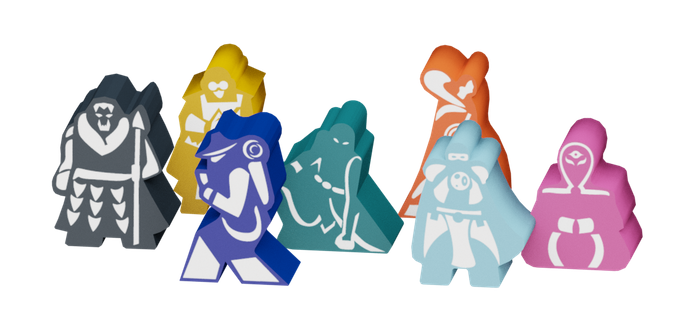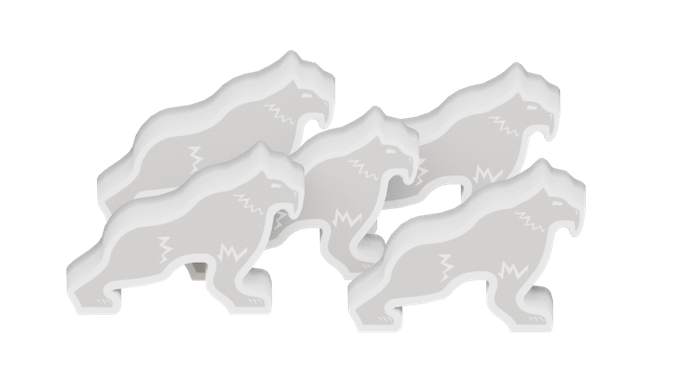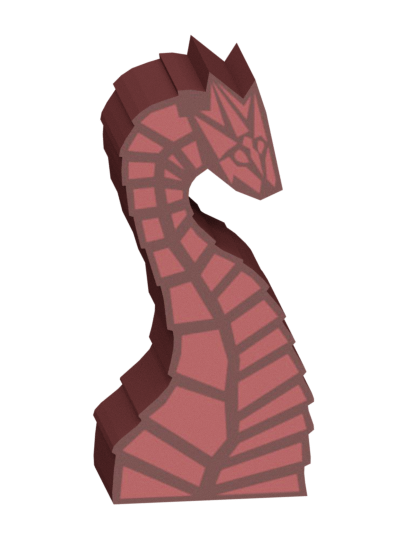 These will look even more amazing once produced, and we can't wait to show you all the final samples.
F O U N D E R S – MONTHLY GIVEAWAY & TEASER TRAILER!
Our next game, F O U N D E R S, has gotten an enthusiastic response since we officially announced it in last month's update. We've sent out the press release and have content creators lined up to play prototype copies of the game in advance of the Kickstarter launch in February.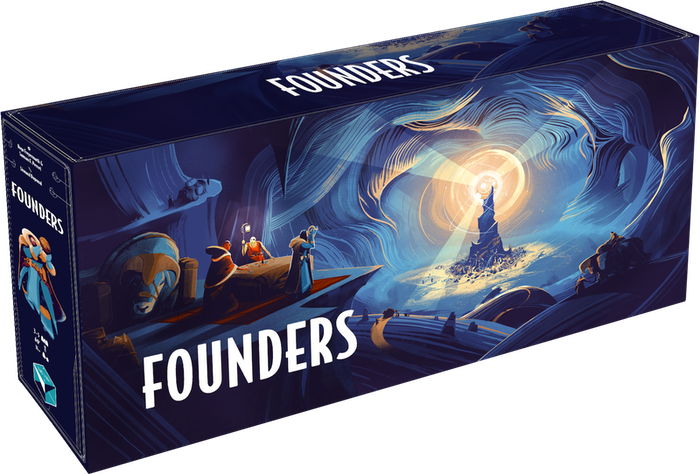 To celebrate, we are starting a monthly giveaway to win a pledge for the game — even long before the Kickstarter campaign starts!
How to enter the giveaway:
👉 All you have to do, dear Explorers, is to subscribe to our newsletter:
If you've already subscribed — congrats! You already have a chance to win.
At the end of the month, we will draw a winner among the subscribers to our newsletter! 😉
➡️ Extra chance to win: if we reach 300 subscribers on the #BGG page of F O U N D E R S, we will draw an extra winner 😎 So, make sure to double your chance by heading to #BoardGameGeek as well:
🍀 Good luck to all the Explorers out there!
Meanwhile, take a look at our YouTube channel where you can find:
The trailer of I C E which just reached 10k views and especially our latest production…
The mini Teaser of F O U N D E R S
Subscribe to it so you won't miss the fuller trailer with story and gameplay elements that will be produced closer to the campaign's launch. And don't forget to join our DISCORD community (if you haven't already) to find out about upcoming playtests for the game.
That's all for this month. Enjoy the end of Summer, and we'll see you again at the beginning of September!