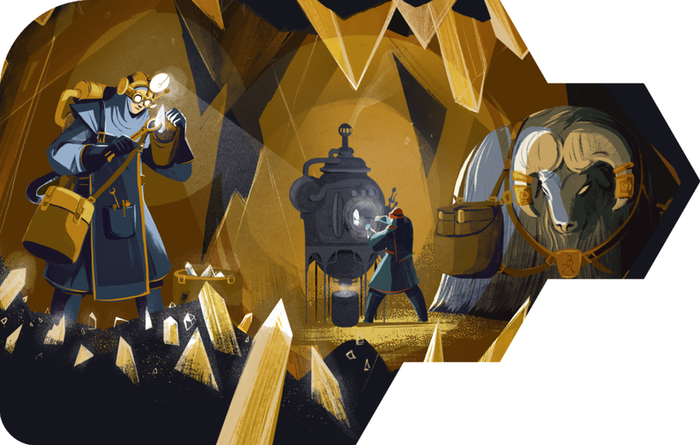 EXPLORERS OF ICY LANDS
The Archives of the Council of The City record the writings of various Guild emissaries upon their return from the Great Expedition. Here we find the account of our Alchemist ( ⚙︎ ).
---
June, 6th
⚙︎ After the return from the Valley, I believe that the five of us were still rocked by the rhythm of the expedition days, the cold breath of the gusts and the spirit of communion that inhabited us then. I found the reassuring world of my alchemy workshop. I also had short but precious discussions with Master Kiku. I can't help thinking about what still awaits us in the depths of the Valley of the Ancients.
---
The reduced team of This Way! that is to say Hugo and Samson (Game Design), Léonard (Illustration) and Alexis (Graphic design), are again at work for the continuation of the operations:
Finalization of the game design by mid-July. In particular, we will be studying your gameplay proposals for the logbook card, the Nourishers' Guild and the new Edifice. Feel free to discuss with us on Discord. 🤗
Finalization of the remaining illustrations until August 31st. With the 20 new artifact illustrations, the 6 new Edifices and a new Guild on the horizon. We'll post all of this on Instagram. 🤩
Finalization of the graphic design of some game elements, layout of the rules (English and French versions obviously, but also German and Spanish versions). Creation of the Artbook (we'll tell you more in a future update). The deadline is also August 31. For the rules it will be on I C E community. 🥰
Within 10 days you will receive an email telling you to fill in the various information on Gamefound (the Pledge Manager). The platform will be open for 2 months, allowing you to give your postal address, upgrade your pledge and choose to add the artwork set or the artbook if you wish.
If you have any suggestions for formats or interactions with the community, we'd love to hear about them in the comments. 🙏
Facts of the last week:
I C E was on the hotness of BoardGameGeek and on the hotlist of Kicktrack on May 31st. ✨
I C E was featured on the Parole Ludique show on Tuesday June 1st.
The finalization of the box insert design is being beautifully done by Matt Healey.