Who doesn't love a good Boardgame convention? 😊
(And if you haven't been to any, we highly recommend all boardgame enthusiasts attend at least one in their life).
Conventions are obviously lots of fun for the fans attending, but they can be extremely important and crucial for gaming companies — to bring awareness to their company, give a taste of their existing and/or upcoming games, and most importantly… to generate buzz.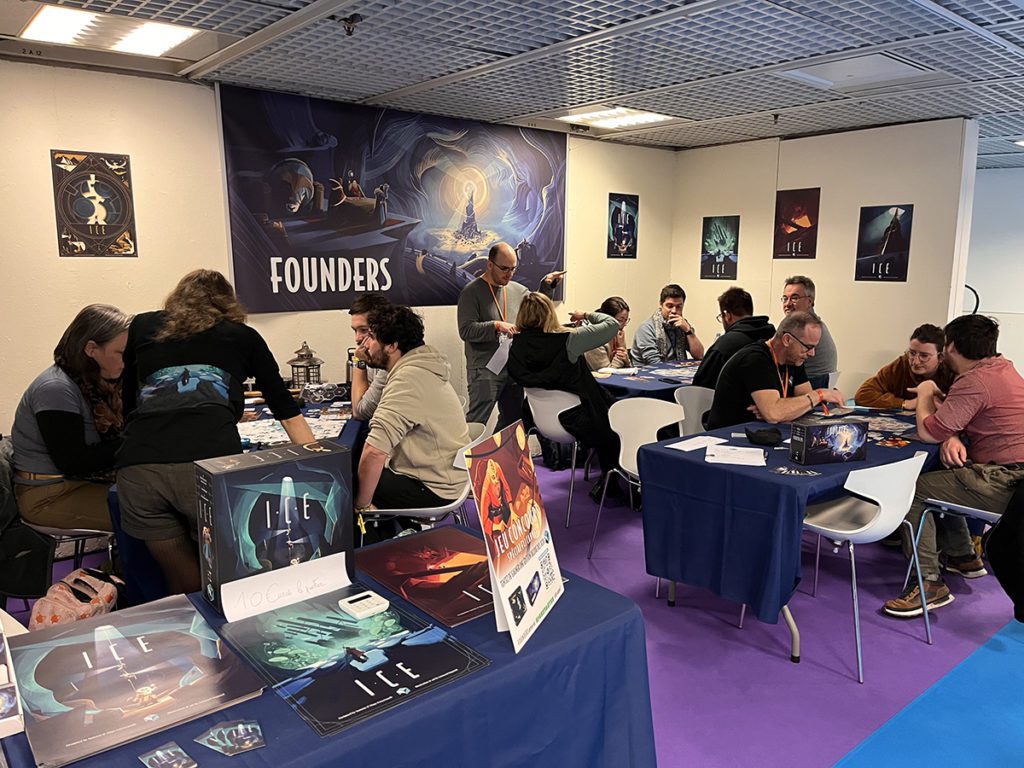 We recently came back from a very successful time at Festival International de Jeux in Cannes, France. This was our second time at this event as an exhibitor, and we've also exhibited twice in Essen for Spiel (the boardgame industry's largest con in Europe) — so we think it's safe to say that we're officially convention veterans at this point.
But preparing for a convention is still no easy task, and takes a lot of long-term planning. From the logistics of figuring out the booth (how much space, the placement, the materials and furniture needed, etc.), to making any prototypes needed (for upcoming games), to getting accommodations and travel for the entire team, and so much more… it's a TON of work, but the benefits make it all worth it.
PREPARING THE BOOTH
Space it at a premium at most conventions, and so securing a good spot (where there will be lots of foot traffic) as early as possible can be important to a company's success at the con. We've been lucky with great placement at both of our Essen appearances, as well as this last time at the Festival International de Jeux — though the first time at FIJ was not so great: we were stuck in a corner in the back of a less-trafficked area. For a site of 15-20 m2, expect 2500€ approximately (variable according to the exposure and the site).
Each convention has its own requirements, rules, and guidelines to be followed. So registration can vary wildly, especially when considering different countries. Many require filling out a very long and detailed application, while others just want some basic info and will contact you directly to get more detailed specifics.
Have you ever wondered where the tables and chairs that are set up at booths come from? Again, depending on the event, personal preference, logistics, it can vary: For Essen, we brought our own booth equipment and drove (from Paris!!) to Germany with all of it. For FIJ, we took a train — and rented the necessary furnishings from the event itself.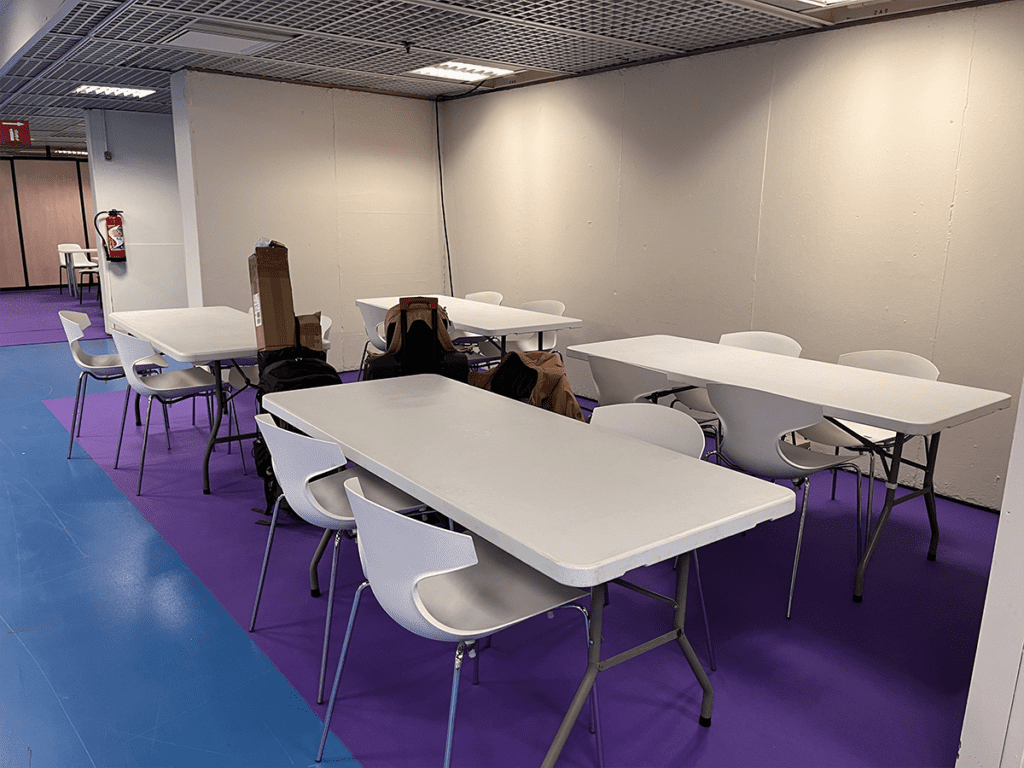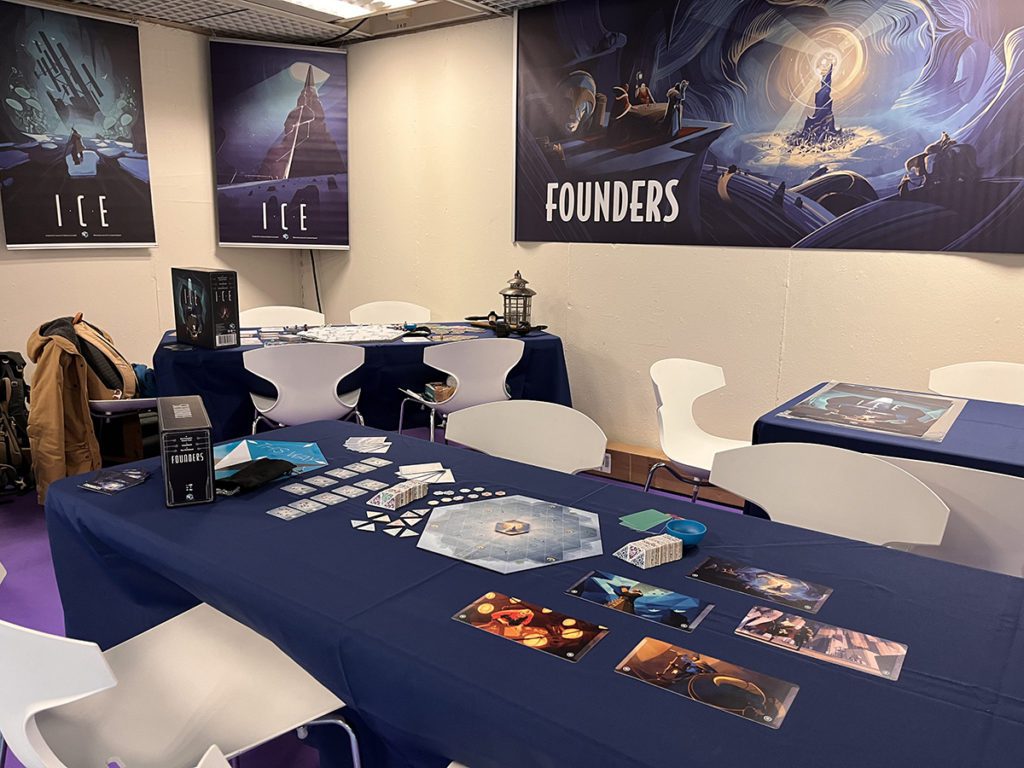 Booths need to look attractive and professional to attract audiences, and so having the right type of posters, banners, and other details will have a huge impact. As first-time game makers, our budget is not that huge yet. But fortunately we can take advantage of the gorgeous illustrations of our artist, Léonard Dupond. So making large kakemonos (illustrated scrolls for hanging) with Léonard's art is enough to draw lots of attention. We made them at local printing shops here in France.
We also made many posters of Léonard's art to sell at the cons, and brought a mobile device (SumUp payment terminal) for charging credit cards if needed. Since none of our games are officially available yet, we haven't needed to be concerned about selling games at any of the cons just yet. But that will change for this year's Spiel, as we will finally have extra copies of ICE for sale — so we will need to make additional planning for shipping and storage of those games, as well as a more advanced system for charging payments/handling money.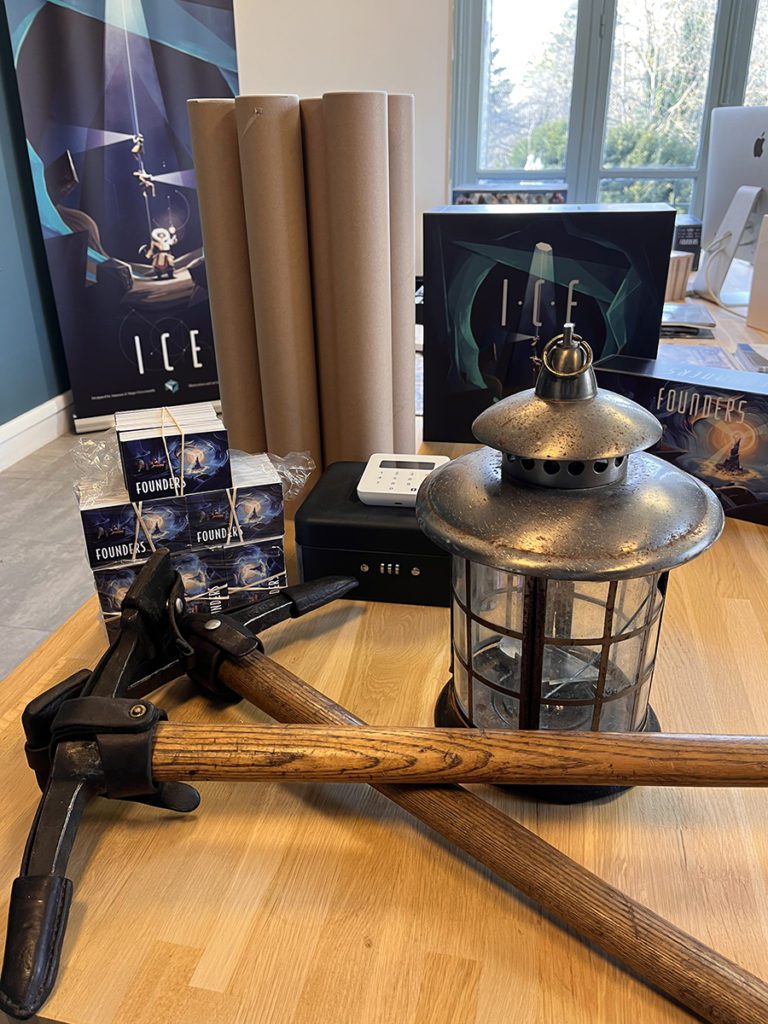 Other necessary things we brought to make our booth run smoothly:
— Tablecloths
— Decorative items such as lamps and mountain axes!
— Business cards
— A cash box for cash payments
— Cardboard tubes for posters
— Other useful items: cutters, strings, tape, etc.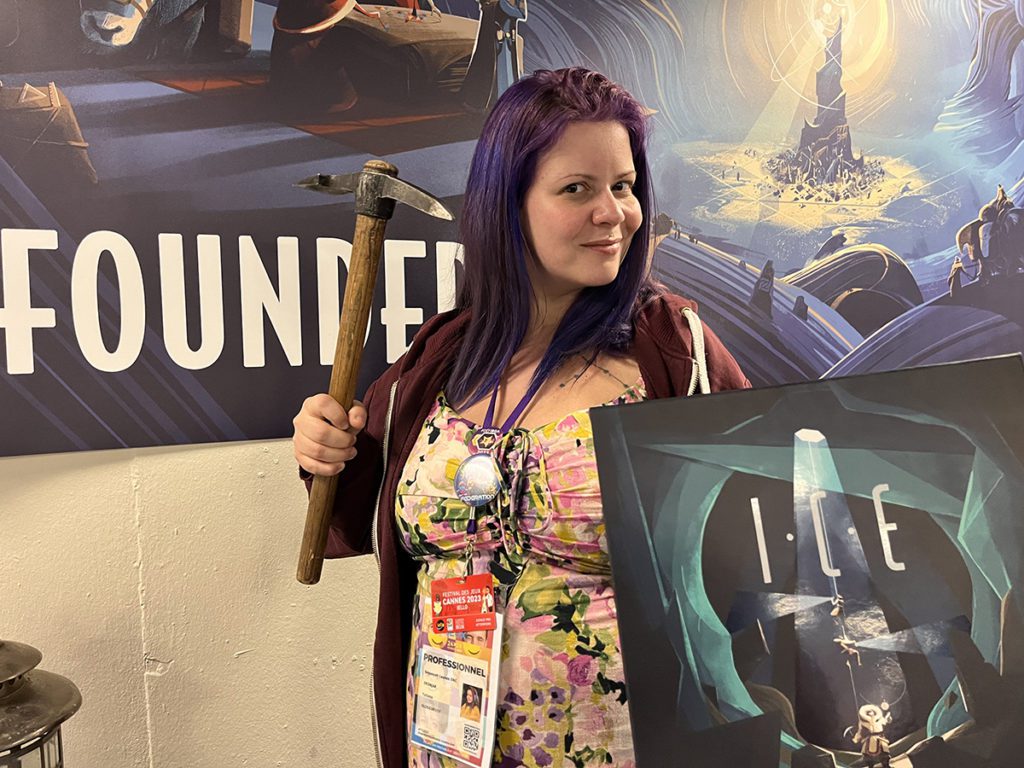 PREPARING PROTOYPES
For the last Spiel and this recent FIJ, we were lucky to have had the first completed production copy of ICE. But for prior conventions, we only had prototypes of ICE. And most recently, prototypes of our next game, FOUNDERS.
While the final mass-production of these games are being done with Panda Game Manufacturing in China, we decided to have any prototypes of them done with a more local manufacturer in the EU — Azao Games (located in Belgium). This allowed us to have the prototypes done much closer to the dates of the conventions in order for them to have the absolute latest art and rulesets. However, we may change this plan for future cons and do prototypes with Panda (which will allow for less time needed for the pre-production of them) — however it requires us to make them much further in advance.
Prototypes for conventions don't need to be perfect, and fans don't expect them to be. In fact, the point of having prototypes is to test the mechanics on a much larger scale in order to fix any potential issues that may arise in gameplay. And of course, getting input from playtesters can potentially change games for the better. For example we got some great feedback from FIJ regarding some graphical elements of FOUNDERS, and we will be making some small changes to make the gameplay even more clear.
In order to allow for possible changes in mechanics or aesthetics, prototypes are rarely "final," especially in terms of the graphical aspects. But still… they need to be attractive enough to get people's attention and see the game's true potential, and to get players excited for what's to come.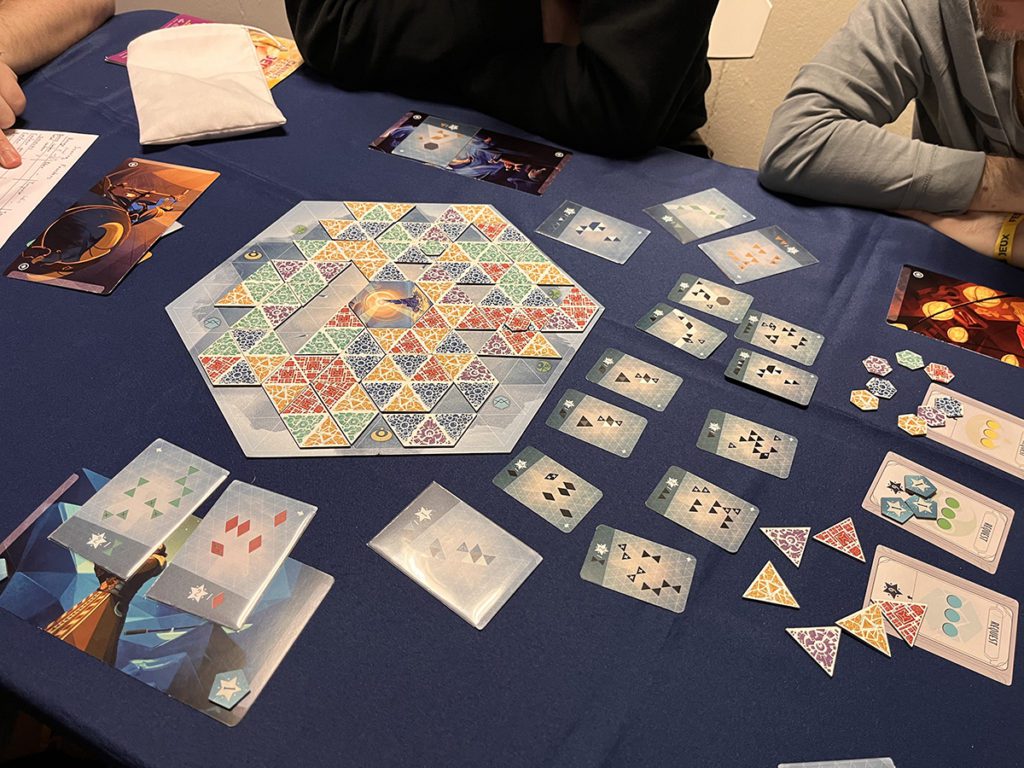 Protoytpes are where we can also test certain materials as well, to see how well they might work. Concepts are one thing, but seeing how they adapt to real life plays of the game is the true test of fire. For FOUNDERS, we have Design objective cards that will show specific patterns that need to be completed, but we wanted a way for players to customize the colors associated with these designs. So for our latest prototype that debuted at FIJ, we had Azao create illustrated card sleeves with transparent sections — and then there are different solid-color cards that could slide inside of them. The end result is that the objectives can now change colors easily this way.
We were satisfied with this test, and will likely refine it further for the final version of the game. This solution, while the most practical, comes with a difficult decision for us, however. It means we'll need to use a small amount of plastic for at least 10 cards plus sleeves in the base game. (We recently talked about becoming a more eco-friendly company for future games, so we definitely want to reduce the amount of plastics whenever possible. But we're confident we can work out a good solution with Panda for the final game).
OTHER DETAILS TO CONSIDER
There are other essential elements to take into account:

This year for the first time we hired a professional facilitator to assist us at the booth. We had 3 game tables this time… and 3 prototypes to play with! It went very well and we will probably do it again.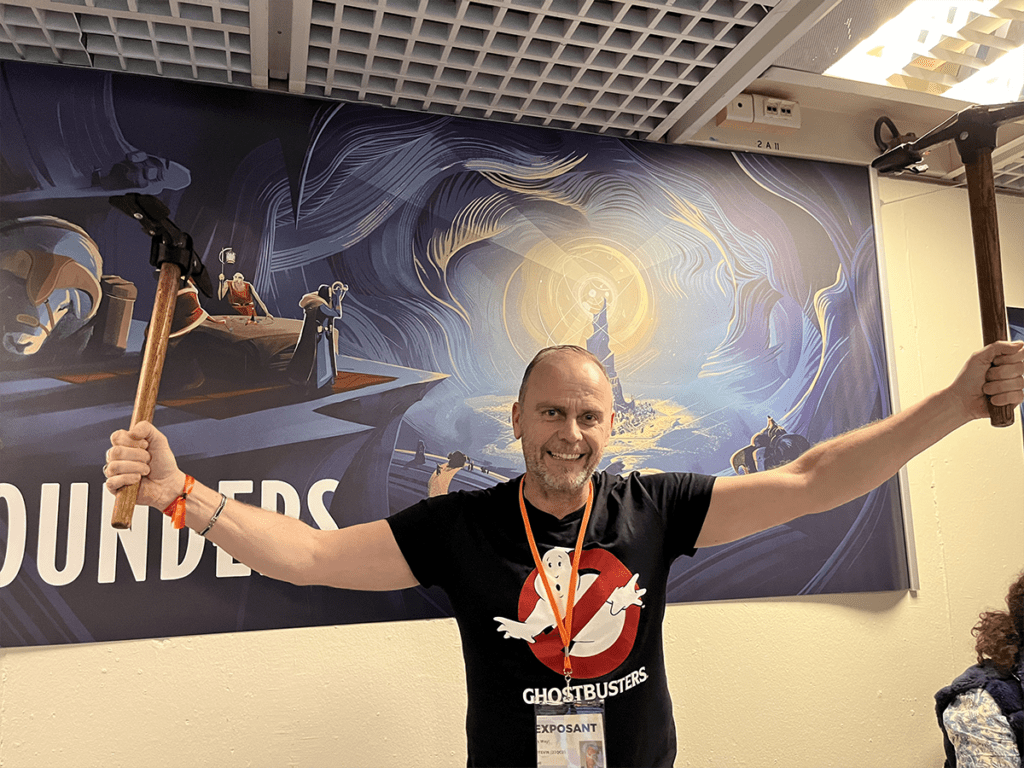 We also always need to rent an apartment for the occasion. With AirBnB we can get something that is not too far from the festival at an acceptable price, and that can accommodate the whole team!
Finally, it's important to book / take care of the food logistics: lunch boxes, restaurants and partner invitations…
---
As you can see, convention planning takes a LOT of work — but it's an absolute essential part to growing as a games company.
So will we see YOU at an upcoming convention? And is there a con that you would hope This Way could attend? Write to us on our social media and let us know!
And what is the best Game Convention you have ever attended? Please let us know by taking this quick one-question survey.