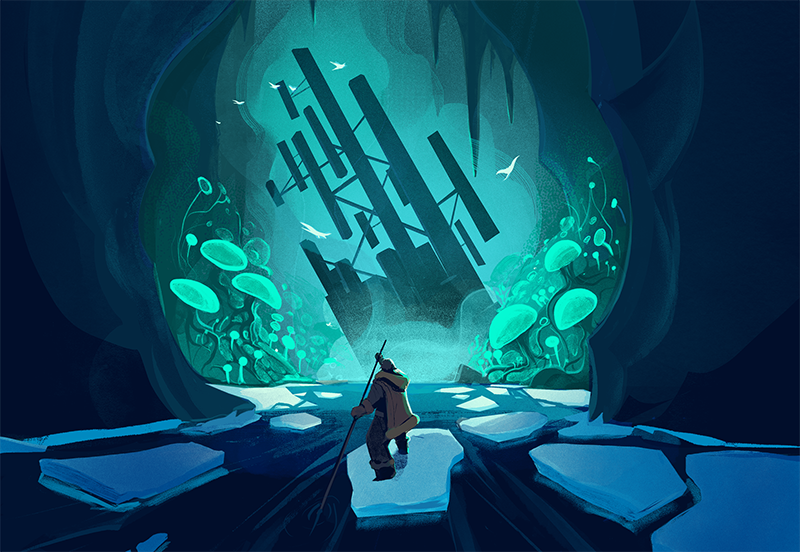 EXPLORERS OF ICY LANDS, ❄️
‼️SUPER IMPORTANT: BOTH GOOD AND BAD NEWS AHEAD – SO PLEASE MAKE SURE YOU READ THIS UPDATE! ‼️
---
MAY 4
---
This month's Update marks exactly 2 years since launching this campaign! While we know the game is later than expected, we had planned to celebrate this anniversary in this Update because the games have been produced and assembled: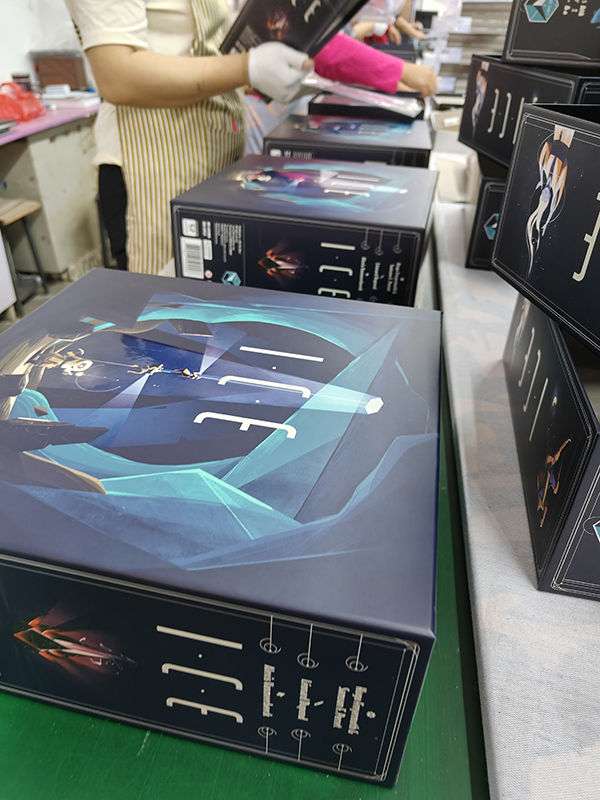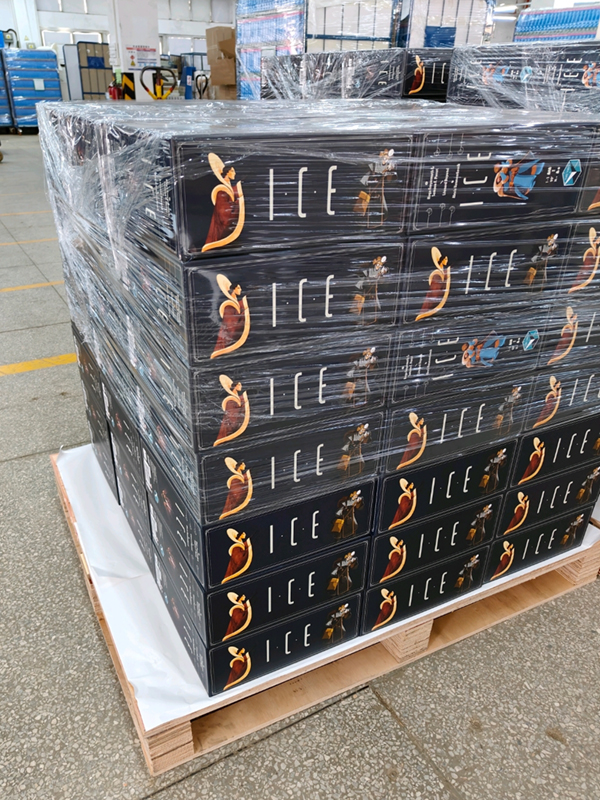 But a recent and sudden development has provided yet another major hurdle for us. 😓
We've prided ourselves for being a company that's as transparent as possible with what's going on behind-the-scenes, and we will never change this.
( A "TLDR" version of this is at the end — but just to calm any fears, ICE is still coming! Though we could use a little of your help, which is entirely optional. Please read on. But you can also skip to the "New Campaign" section if you want to get to the good stuff) 🙏🏻
Things have been running pretty smoothly for the last several months or so since we got our final update on delivery estimates at the end of last year, and there was no real cause for concern with the campaign. We've been getting more and more excited as the date for delivery has been approaching, knowing that our backers will get their games this Summer and finally be able to enjoy ICE.
But then last week a new obstacle presented itself, just as we were preparing for the last stages:
A last-minute updated quote on shipping costs was suddenly revealed to us by our fulfillment facilitator. And unfortunately it was… nearly double the cost of the quote we were given previously, which was already quite significant. (The shipping to the U.S. — which is the majority of our pledges — suffered the biggest increase in costs here). Having been stretched to the absolute limit of our budget over these past couple of years, this was quite a final blow — and simply something we weren't prepared for.
To put things into perspective:
We've weathered through multiple unexpected hurdles on the path to getting ICE out into the world, many of which you already know about, and some you might not. To name just a few:
— The skyrocketing costs of materials since the pandemic, which has affected so many companies around the world, not just us.
— The rate of the U.S. dollar which was very low at the time of the Kickstarter campaign…but increased dramatically (our main collaborators — production and shipping costs — being in dollar currency instead of euros).
— The extreme difficulties in producing the 5-layer board which became significantly more costly than what we were originally quoted on (an extra cost that was discovered at a point where it was too late to make changes about it), which made manufacturing the game "as it was" for retail no longer possible. (These retail plans were meant to be a MAJOR source of revenue!)
— Not being able to be in retail also meant we had to manufacture significantly less copies than planned (so only for the KS backers), which meant a much higher per-unit cost for us that we had to pay in order to make the game for those who pledged, resulting in less profits overall.
— The year-long delay which pushed back our other Kickstarter plans (which, again, was supposed to be even MORE much-needed sources of revenue).
— The typical hurdles and mistakes that EVERY new publisher deals with on their first game. (It's common knowledge that first-time projects just don't make money. Usually it takes a 2nd or 3rd project for publishers to know what they're doing and finally start getting somewhere — so it's a huge investment that takes a ton of time to actually pay off).

ALL of these setbacks and more, combined, took a major financial toll on us. We've seen many game companies fold under this kind of pressure since the pandemic. Most recently, fellow French company Holy Grail Games — makers of the "Rallyman" games, as well as "Museum" and "Encyclopedia" — had to shut down. 😔 To see this happen to a peer such as Holy Grail, who have made such great games, was tough to see — and was certainly eye-opening.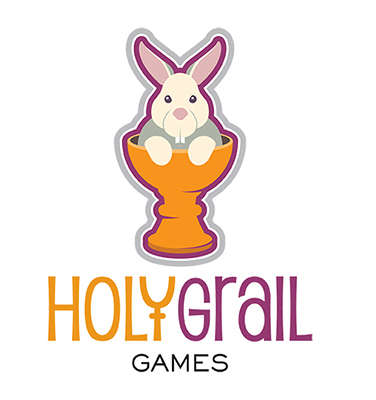 But despite all of these hurdles, This Way! was still able to march on — confident we could avoid all of these troubles if we could just make it to our next campaign.
We were happy in the knowledge that ICE was finally coming soon, and that launching FOUNDERS (which would utilize ALL the things we had learned over these years to make a much smarter and cost-effective campaign) was a chance for us to finally be on an upswing with finances. We just had to make it to the July 3rd launch date we had announced, and we'd be back in a good place!
But then being hit by the doubling shipping costs this past week has put us back in a crisis mode again.
Fear not, though, because we have a solution to this situation that we think you'll like!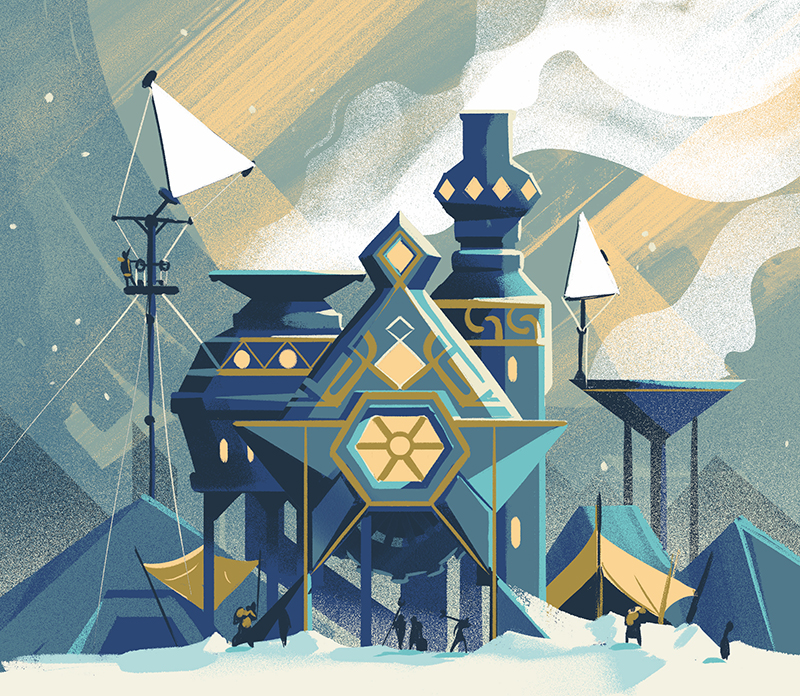 THE ANSWER IS THIS WAY…
Once we we received the troubling news about the shipping costs, team This Way! immediately got together to figure out how we could solve this dilemma — and the past week has resulted in a ton of brainstorming.
We've seen other companies in similar situations ask their backers to suddenly pay additional funds for shipping, but we absolutely did NOT want to do this. You, our faithful and dedicated backers, have all waited long enough for this game already — and to suddenly ask for more money without giving anything else for it in return didn't seem fair. It felt like asking for ransom money to free your game from being a hostage. There was just NO way this was an option!!
We also didn't want a solution that required all backers to donate something. We wanted whatever we came up with to be an optional choice. Times are tough for many around the world, and just because WE are going through a hard time at this moment, doesn't mean we want to force this burden upon you all as well.
And so we've decided to put together a super quick support campaign starting in early June on Gamefound, that will offer some really cool new ICE-related items we think you'll all want.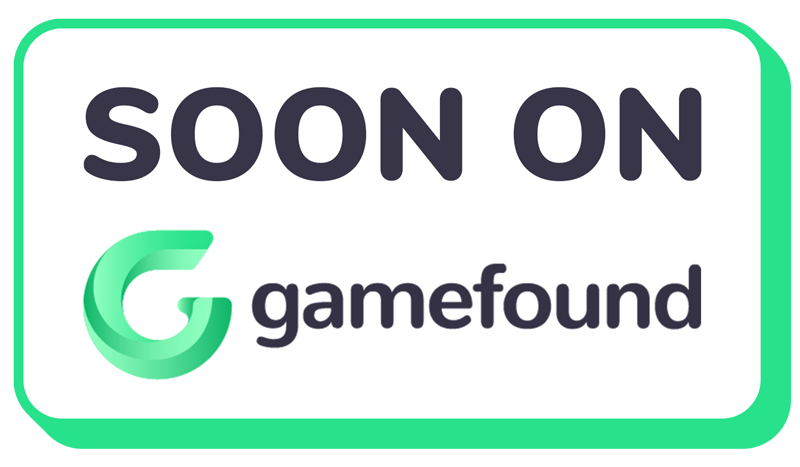 In order to ensure that this support campaign reaches its goal, we have also made a very important decision that will actually change a recent announcement we had just made: 
As we mentioned last month, we had planned to have a limited pledge for our Upcoming FOUNDERS campaign that was going to include the deluxe editions of FOUNDERS and ICE together. We will now not be offering ICE anymore in the FOUNDERS campaign, and will be offering it instead in this new support campaign. More info below…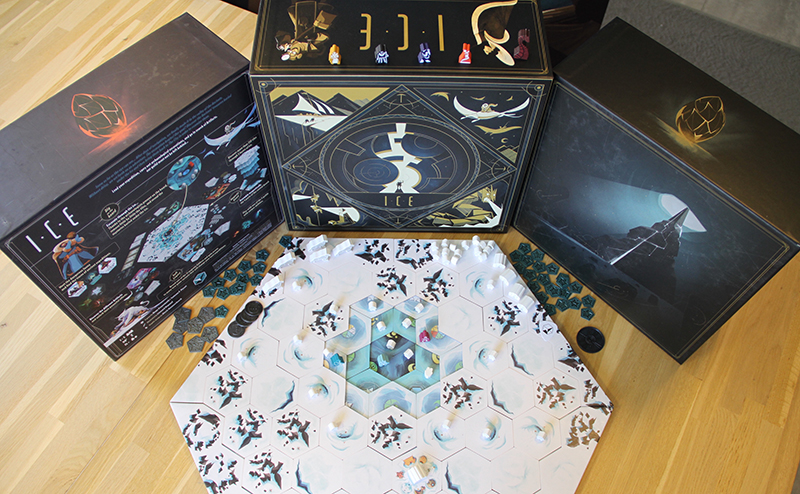 NEW CAMPAIGN: "I C E LIMITED : THIS WAY TO THE FUTURE!" 
👆 This will be the name of this new campaign, which will probably start on June 6 on Gamefound and will last at least a week. By contributing to it, you are ensuring that This Way! has a long future ahead — and we have soooo many really cool things planned for our future, including more expansions for ICE and more standalone-games both in and out of the ICE universe!
This support campaign will have the following donation levels, with accompanying rewards:
A digital version of the ICE Art Book, featuring the fabulous art of Léonard Dupond
A Mini Poster of ICE or FOUNDERS (A4 size) + the HD digital file of the art
A set of ICE Postcards
An ICE Companion Set containing TWO new Booster packs of ICE Cards that you can optionally use in your games + 1 new Edifice tile! These new cards will contain powerful Guild abilities, Edifice cards, and more. We've come up with some really cool ideas, and can't wait to tell give you more info on this!
The physical ICE Art Book + Digital Art Book (Great news for anyone who added the physical book already to their ICE pledge: we'll be sending you the digital version of this for free as well!).
ICE, the game — for those who missed out on the first campaign. We will have a very limited supply of the deluxe Collectors Box and even less of the Standard version. This will no longer be a combined pledge with FOUNDERS, and backers who pledge for this will get it right after the original KS backers receive theirs.
(Just a note: These extra ICE games will be about 25% more expensive than they were in the original campaign. This reflects a price closer to reality of what the game should have been, had we known about the all the cost increases that would lay ahead for us. It was always our intention to sell these extra copies that we made at this price whenever it came to that time. Originally we thought it would be at Essen Spiel of this year, and then the FOUNDERS campaign, but now it will be for this new support campaign).
We'll have much more detailed info on this support campaign in a quick follow-up Update right before its launch.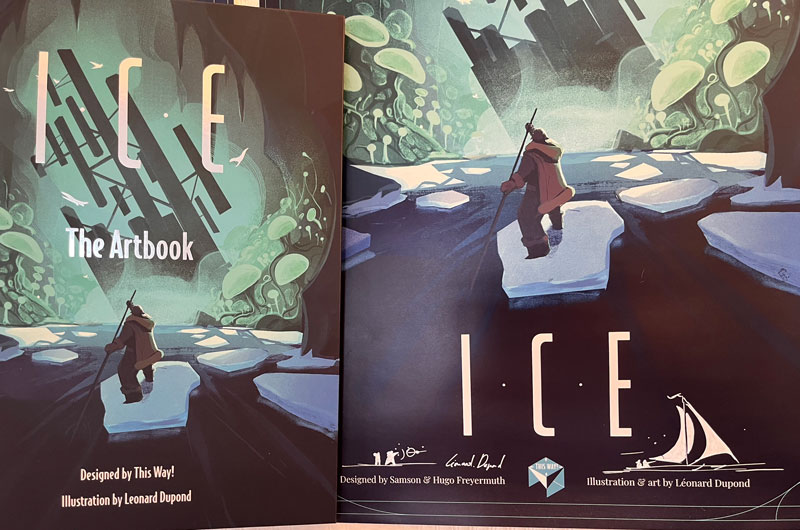 It's possible we might add new items to this list before June 6th, and we are happy to take suggestions! Just know that we are limited in what we can offer in this very short time. We also won't be able to have any new art by Léonard for any new items (as he is quite busy with getting more FOUNDERS art done for the upcoming campaign).
As we expect there will be LOTS of questions, we wanted to answer some of them ahead of time. Please ask any additional questions you might have in the comments to this Update. We want to make sure all concerns are voiced, and every question answered.
F.A.Q.'s THAT WE KNOW YOU'LL ASK 😉
"Isn't this all happening too last-minute? How can you have this flash support campaign in the beginning of June, and still expect to deliver by the end of June? Don't you have to pay for the shipping way sooner than this??" — The support campaign will end right on time, and we will get funds from it within 3 days. The fulfillment itself has MULTIPLE stages, and each stage has an associated cost for it when needed. The very last stage, which is the shipping from the hubs to backer's homes, is the last and most expensive payment that we need to pay — and that is what this support campaign is mainly for. We are prepared to pay the initial stages that will happen before this. That said, we should warn you backers that this is likely to delay the game yet again — but only by a couple of weeks. Instead of last half of June, expect first half of July to be safe. (We're hoping it's still sooner 🤞).
"Can I get additional copies of ICE in this new campaign, even if am already getting it from the first KS?" — We can't stop you from getting it again, but we would prefer if you wouldn't. We have an extremely limited amount of this first edition left, and we won't have another campaign for ICE until 2024, with possible delivery in 2025. So we'd love the people who missed out on the first KS to have a chance to get it now in this new campaign. We're aware that there are more people who will want it than the number of copies we'll have available, and some will miss out a 2nd time. We apologize in advance for this.
"I'm getting this Update because I pledged 1 euro, but I never actually pledged for ICE. Can I get it in the new campaign, and when will it come?" —Yes, you can absolutely get in the new campaign, BUT — you will have to rush and get it before the limited pledge sells out. The limited quantities of ICE games from this new campaign will most-likely be sent only a couple weeks after the backers from the first KS get theirs!
"Where are these extra copies of ICE coming from?" —When we got the adjusted quote for ICE (after material cost increases, and after realizing the actual production would be costlier than planned), we realized we couldn't print as many of this first version as we would have wanted — the price-per-unit for us would leave very little profit if we sold it at the original price that we offered KS backers. This led to us completely re-thinking how we will offer ICE again in the future in a more affordable (for us) method. (Basically we'll be breaking down the game into a smaller "base" game and expansions that, when combined, will create what ICE version 1.0 is today — which will make the game a lot more "retail-friendly." The original KS backers have gotten an incredible deal!). But we knew that there would be people that would still want ICE sooner, and so we printed a limited amount of extra copies for this purpose. (Please note: These are NOT part of the percentage of extras that every publisher must make in order to fulfill any possible lost, damaged, or missing-parts games. We've also made extras for this very purpose).
"Can the other physical items, including the previously available Art Book, be added to my existing ICE pledge?" — This is unfortunately not possible at this late date — and any other physical items from this new campaign will require additional shipping. Even though we are using Gamefound for this campaign (and they are the pledge manager we used for ICE), this will be treated as an entirely separate campaign — not an extension of the existing one. The Booster cards + Edifice tile don't even exist yet — and we will need to produce them and ship them when they are ready. But we will fast-track them as best we can. Thankfully they are just cards and a tile, and not a difficult-to-make 5-layer board. 😅 If the ONLY physical item you get is the Art Book, it will ship sooner. However if you add any of the NEW physical items, then everything will ship together at a later date.
"Will the launch date of FOUNDERS be pushed back because of all of this?" — Unfortunately yes. It's a bit embarrassing that this is the 3rd time it's moved (for us). And the first time after giving the first "official" date of July 3rd. But we've always promised that we will NOT launch the FOUNDERS campaign until ICE is delivered to backers — and since games have the possibility of delivering by early July now, the 3rd is now too risky a launch date to keep. We will have a more definitive day by next Update, but it won't be long after ICE reaches backers.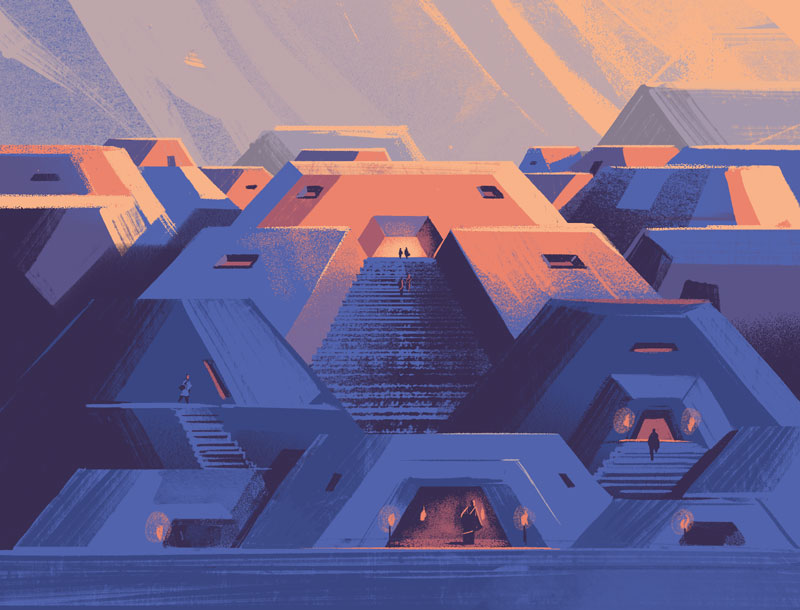 THE "TLDR" VERSION
This Way!'s cost for shipping ICE doubled recently, and we could use your help. A quick support campaign that will offer some goodies we think you'll definitely want is coming soon.
We are going to do everything in our power to still get ICE delivered to backers within the timeframe we've mentioned in previous updates.
THANKS FOR YOUR SUPPORT 🙏🏻
We can't thank you, our faithful backers, enough for the wonderful support you've been giving us the past two years. We know this news was not what you wanted to hear from us right before delivery. (And we certainly didn't expect or want to have to give it). But we are super confident we can get through this final hurdle, and think you'll really like the new Booster Packs we've come up with.
We'll be providing more info on the THIS WAY TO THE FUTURE campaign right before launch, so stay tuned…