EXPLORERS OF ICY LANDS, ❄️
While the great market organized by the nurturers was in full swing… the Council of the Incandescents, presided over by Master Silene, had met in the Arcane Quarter to establish the legacy that the Guild wanted to leave for future generations. In particular, the artifacts discovered during the excavations in the Valley of the Ancients…
---
MARCH 4
---
✵ Expanding crowd ⌁ Recollection within the council of sages
✵ Path of Realization ⌁ Artifact of Achievement ⌁ Anima
✵ Learning ⌁ Restructuring ⌁ Transmission
Dryas (Incandescent ✵)
---
Happy March, Explorers!
It's the final weeks of Winter, and soon Spring will arrive — and we can't wait.
It's another short update this month: we'll refresh everyone on Production/Delivery, talk about our time at Festival International de Jeux, and link to our behind-the-scenes article about preparing for conventions.
PRODUCTION/DELIVERY
We know the thing backers want to know most is when I·C·E will arrive on their doorsteps! 😊
Well there's currently NO CHANGE to the schedule that was given in January's update. And we are hoping it will stay that way! 🤞
To repeat:

Final Assembly and shipping to Hubs: End of April
Arrival to Hubs: End of May
Delivery tends to commence roughly within 2-3 weeks after arrival, which means we expect backers to be receiving their games throughout late June
As always, we will update you all if there are changes, but we don't expect there to be any. That brings us to…
THE FINAL CALL FOR ADDRESS CHANGES!
We would love for anyone expecting to change their shipping address by June to update to their new address in Gamefound by the end of this month (March). If you expect to move by then, but you will NOT know what your new address will be by the end of this month, we strongly advise changing shipping to a close friend or relative's address to ensure it arrives in safe hands.
If there's a sudden, unexpected change of address after March and you were not able to update your address in time, please contact us at contact[@]thiswayeditions.com and we will do our best to help.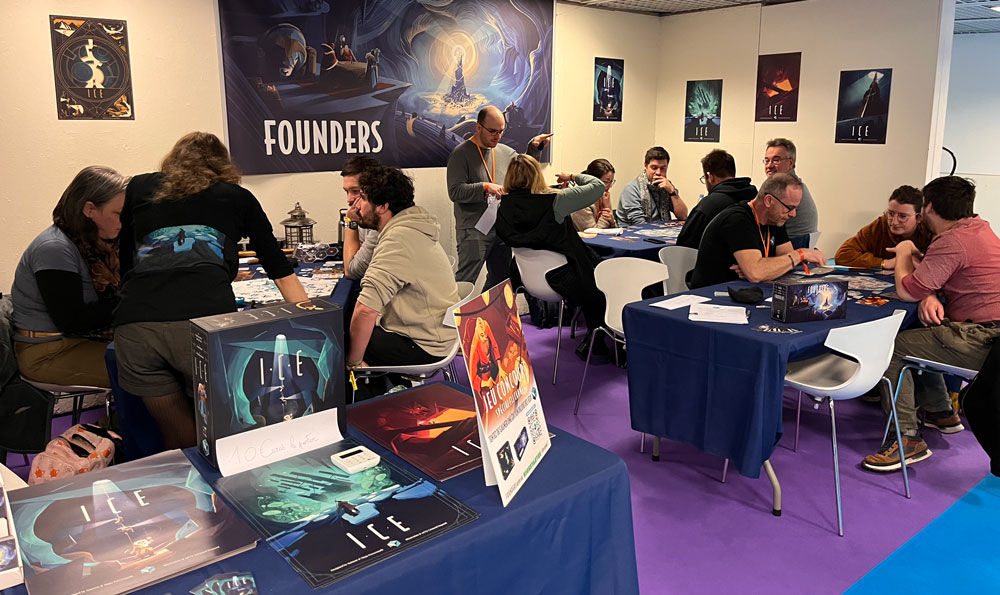 A SUCCESSFUL FIJ
A week ago we were at our 2nd Festival International des Jeux in Cannes, France as an exhibitor — and what a fantastic time we had. We are still processing everything that occurred, as quite a lot happened — and we are directing all the great suggestions and ideas back into the development of future games and expansions.
We had the pleasure, even if it was very intense during 4 non-stop days, to meet many players during this festival, and also some I·C·E backers who stopped by the booth… A huge thank you to them!
We had 3 tables: one with the pre-production version of I·C·E and two others with the latest prototypes of FOUNDERS — where lots of playtests resulted in great feedback.
That feedback we received has resulted in some graphic improvements for the FOUNDERS cards for better clarity… and we also had lots of enthusiasm and praise for I·C·E!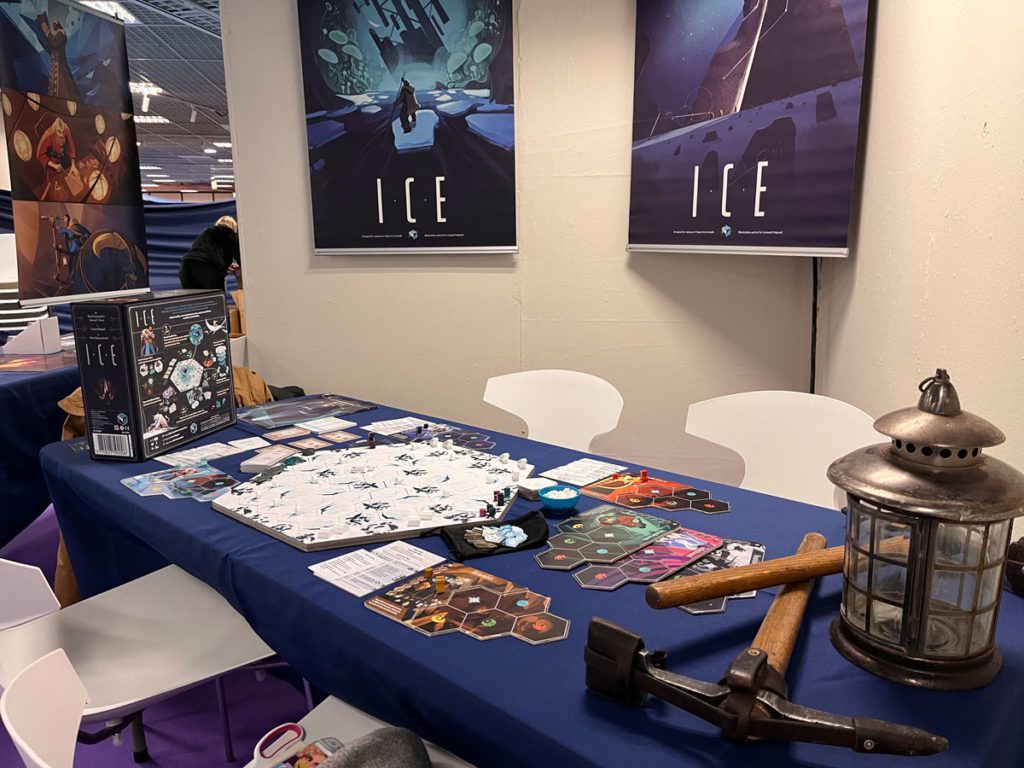 BEHIND THE CONVENTIONS
Speaking of conventions, we thought it would be an interesting read to learn about what it takes to prepare for boardgame conventions as a small, first-time games publisher.
Conventions are obviously lots of fun for the fans attending, but they can be extremely important and crucial for gaming companies — to bring awareness to their company, give a taste of their existing and/or upcoming games, and most importantly… to generate buzz.… Click HERE for the full article about the behind-the-scenes of convention planning!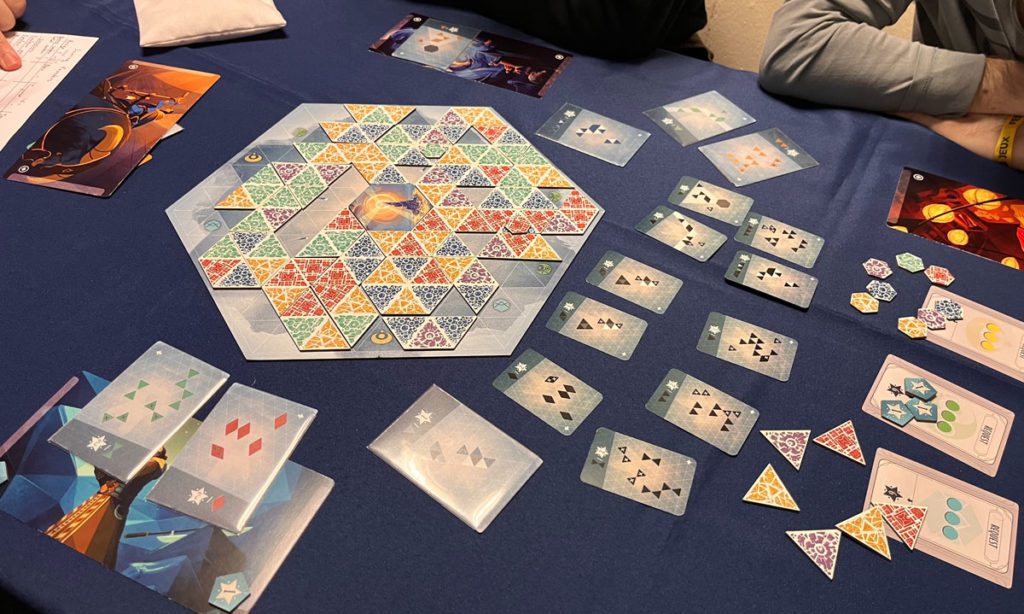 FOUNDERS PLAYTESTS
Yes, yes, we know… we talked about a public version of FOUNDERS coming to TTS in last month's update, so… where is it, you may be asking? 🙈
Well between Hugo becoming a new parent, and all the preparation for Cannes, we're still a little bit behind on it. We thank you for your patience. One thing we definitely want to get right is having a good and solid rulebook available when it finally goes public. We're aware that the rulebook that was available during the I·C·E campaign was…. not great. So we don't want to make that mistake again. When we are finally ready, we will absolutely let you know!
That's all for this 40th Update.
We'll be back again in a month with more news!