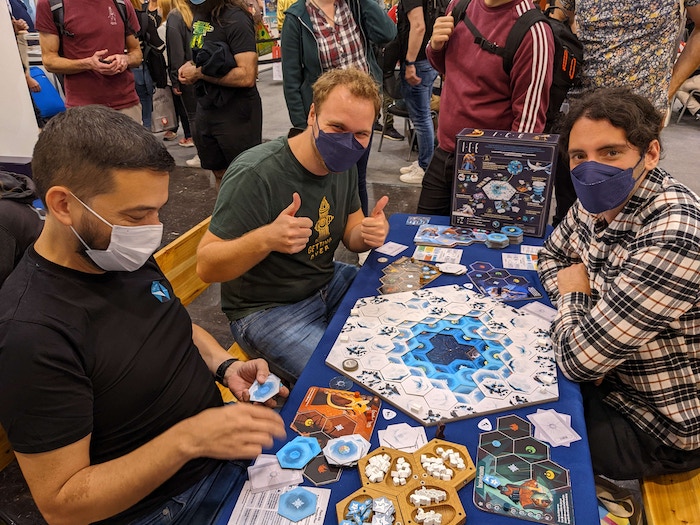 EXPLORERS OF ICY LANDS, ❄️
Happy November!
Samson & Hugo are way too busy with various This Way! matters this week, so they've asked me (Anton) to step in for this very important update!
---
NOVEMBER 5
---
I'll be giving the latest production and delivery news, a post-Essen recap, a sneak peek of the I·C·E Art Book, our journey of developing a 5-layer board, and reasons why you might want to subscribe to our newsletter (if you haven't already)!
MASS PRODUCTION HAS BEGUN!
As mentioned in our last update, we got the first production copy of I·C·E from Panda Game manufacturing, and there were some issues we needed to fix/address. After more back and forth, and additional samples made and proofed, we finally hit the mass production button.
🥳 Your games are being made! 🥳
Here's a rundown of the issues we managed to fix:
— The Collector's cover was missing the title of the game, and the gold metallic ink didn't have the color and shine we had hoped. Both issues have been resolved!
— The two Leader meeples that had some color issues (both Alchemists and Incandescents needed to be lighter) have been fixed: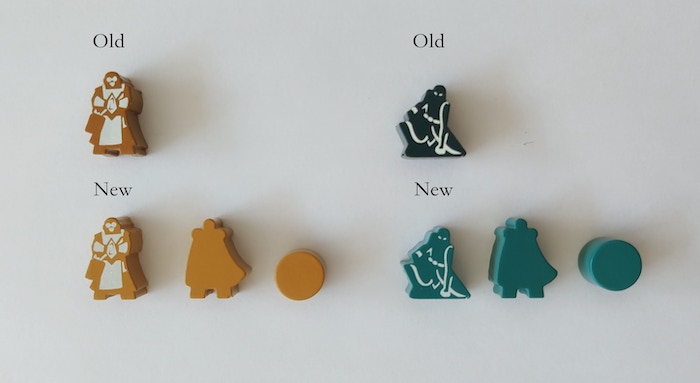 — Some minor missing graphical elements on three cards have been restored
— Finally, the biggest issues — that the board's layers were too short, and 3 of the 5 layers of tiles were ever-so-slightly too large — are being corrected.
This was the hardest and trickiest thing to get right, and caused quite a few headaches. In a normal tile-laying game, if you used, stacked or played all of the tiles, you might not even notice any difference between these tiles that were first produced for us. But because in I·C·E the tiles are contained within the layer walls of the board, the bottom 3 layers were fitting too tightly. It became more apparent when all of us were together at Essen and stood the tiles upright next to each other. It was almost not noticeable at first, but the last 3 layers were indeed slightly larger. You couldn't even tell by looking straight at them, unless you tried fitting them within the board itself, or compared them back-to-back with the correct-sized tiles. The difference was almost imperceptible.
So while fixing this major issue unfortunately caused another delay (see below), we are sooooo happy we caught and corrected this mistake!
If you'd like to learn more about our journey into making the 5-layer board for I·C·E, please read our article: "How to Make a 5-Layer Board"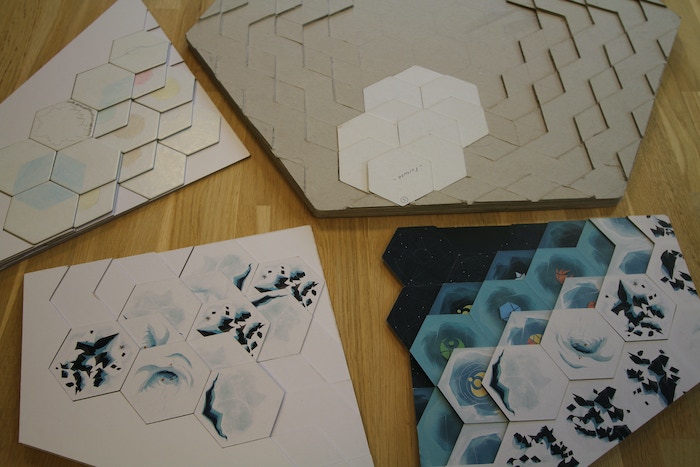 It explains a lot of the cool and crazy things we had to do in order to get it conceived and produced, and why it proved to be so complicated (and take longer than expected) to bring to reality — but also why it's been so rewarding once we were finally able to get it right!
One thing we still have not gotten samples on (which thankfully has not prevented mass production beginning on all the other elements of the game), are all the metal components of the Collector's version. Those should be coming soon, and we should have a quick turnaround on them as they get produced last.
DELIVERY UPDATE
So as you know, we had really hoped to have games on boats by the end of this year, but because of the multiple changes we needed and requested from Panda in order to make the game perfect and playable, it's unfortunately pushed back the start of fulfillment even longer. Whether that's by a bit or a lot, is uncertain at this time.
There are now TWO possibilities that can happen:
1). If mass production finishes quickly, followed by final assembly, and then shipping to hubs can happen BEFORE the beginning of Chinese New Year (which begins January 22nd), then there's a chance the games can get on boats by mid January. (The full process of getting to the various hubs can take up to 8 weeks, followed by fulfillment from those hubs to backers which can take another 2-3 weeks — which means the earliest backers could get the game is in the latter half of March).
2). HOWEVER, if mass production / final assembly takes longer than expected, it could potentially mean shipping to the hubs doesn't take place until AFTER Chinese NY. Going by what we've been told, we can expect an additional delay of at least a month, which means the earliest backers could get copies is the latter half of April instead).
We are obviously hoping for scenario 1 above, but need to be prepared for the possibility of scenario 2. We'll hopefully know more by next month, but we wanted to be as transparent as possible to our backers now.
None of this is ideal, and we know many of you will be upset by this news. Trust us, we're even more upset — and it complicates our plans for our next campaign considerably. We're learning a lot as a first-time company, and we'll be much better equipped for future campaigns. And we will clearly go about it differently regarding the realization of innovations such as a 5-layer board! (We will also have the good sense to be more careful with delivery estimates).
ADDRESS CHANGES
We'll be accepting address changes for a while, but we won't give a final deadline until we have a better idea of the shipping situation as explained above. If we're able to start the long process of shipping/fulfillment by mid-January as hoped, then the deadline will most-likely be December 31st. However, if it looks like games might not ship until after Chinese NY, then that deadline will obviously move to later. We will keep you informed here, as always!
ESSEN RECAP
Last month's Essen Spiel 2022 was a huge success! Attendees got their first look at the near-final 1st production copy of I·C·E and were blown away by how it looked and played.
Meanwhile, this was our largest and most informative session of playtests for FOUNDERS yet, which gave us a lot of interesting data that we are incorporating into the game to make it even better!
In the end, we were able to perform 32 demos of I·C·E and 26 playtests of FOUNDERS over 4 days. 🤩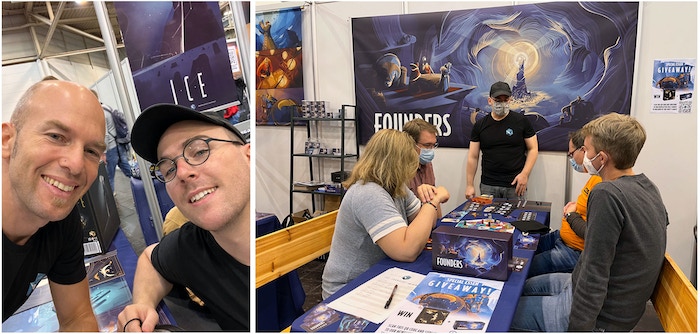 ART BOOK
The I·C·E ART BOOK, designed by Hugo Freyermuth & Noémi Gruner, is also complete and ready to be printed! It features every piece of art from I·C·E by our amazing artist Léonard Dupond printed at a larger size (the book is 25cm x 31cm) so you can better see all the wonderful details in the images. Plus, lots of notes, sketches and lore are included as well.
There are still extra copies of the Art Book available, and it's possible to still add it to your pledge by doing the following:
– Log into your gamefound.com account:
– On the top right, click on your account and "My Projects"
– Look for I·C·E and click "View Your Pledge!
– Click "Project" tab on top, then "Add-ons" from end on left.
– From there you can click "Add to Pledge" any add-ons you see (all are limited)
If you encounter any issues or need help, please contact us at contact@thiswayeditions.com
The I·C·E Art Book is hardcover, 96 pages on semi-gloss paper, and is €35 with a small additional €2.50 of shipping.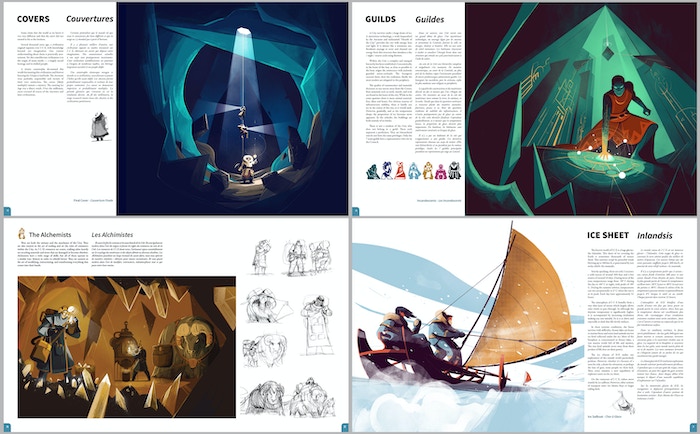 FOUNDERS CAMPAIGN
Due to the change in delivery date of I·C·E, it means we'll need to push the campaign for our next game, FOUNDERS, by at least a couple of months. (So likely April). We'll hopefully have a more final date by our next Update.
Delaying the campaign will ensure that backers of I·C·E get their games delivered first, while also ensuring extra time for a Kickstarter sign-up page (which can't go up until I·C·E begins fulfillment) to have enough time to be up and running before launch (ideally at least 6 weeks prior). Additionally, this gives Léonard more time to finish more art, as he has recently become a new father which has (naturally) taken up a lot of his time lately.
Please note: pushing back the campaign will not change anything about our monthly FOUNDERS giveaway for newsletter subscribers (it just means extra months/chances to win a deluxe pledge!).
JOIN THE ADVENTURE!
Our monthly newsletter subscriber list is growing, but there are still a bunch of backers here who have not joined it. We wanted to reiterate why subscribing may be beneficial to you:
The latest and greatest news from This Way!
As previously mentioned, it gives automatic entry into our monthly giveaway (leading up to campaign launch) for a deluxe pledge of FOUNDERS
An exclusive subscriber-only bonus gift added to any full pledge of one of our future games
Behind-the-scenes of our journey to creating games.
Recommendations on our current favorite games from other publishers.
Plus, we ask a big question every month (in the form of a poll).
You can join the adventure by subscribing HERE.
That's all for this month. See you again in 30 days!