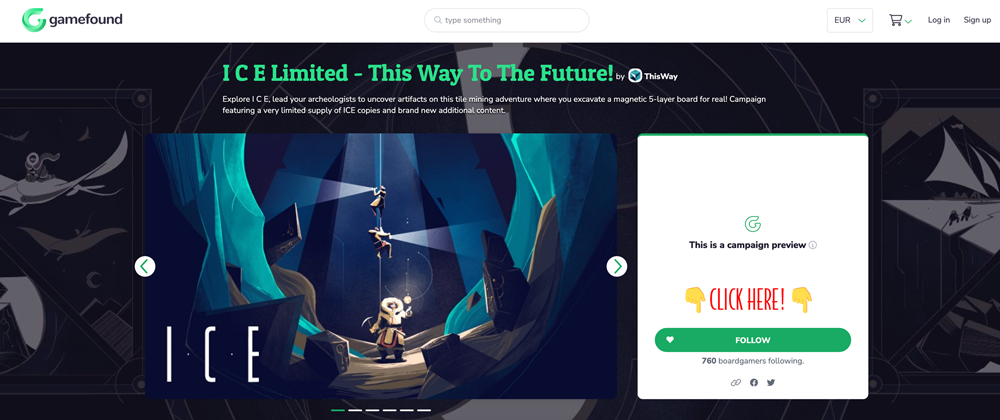 EXPLORERS OF ICY LANDS, ❄️
We're not waiting our usual month between Updates, as it's very important to announce that the Gamefound page for our support campaign is now up, and we would appreciate it if you would all follow it! 🙏🏻
https://gamefound.com/projects/thisway/this-way-to-the-future
---
MAY 17
---
The more of you that follow this campaign, the more successful it will likely be due to your (optional) support. Even if you don't plan on getting anything, a simple follow also helps because a larger following draws more curiosity from other gamers that may not know anything about ICE or This Way!
Remember, we need this campaign to be a success in order to help in getting ICE shipped out to all of you that backed it. It will surely fund simply from us offering our last remaining copies of ICE (which will then help with the current shipping situation), but funding beyond that will help keep This Way! strong as a company for the times to come!
WHAT'S THIS ALL ABOUT?
In case you missed our last KS Update, we advise that you read it now to get the full story. In short: the shipping of ICE to backers has hit one final obstacle, and we could use your help through a new support campaign that offers NEW content for ICE!
MORE F.A.Q. ITEMS!
You have had lots of questions, and we are happy to provide lots of answers.
Please take a look at the F.A.Q. section of the campaign here:
https://gamefound.com/projects/thisway/this-way-to-the-future/faq
If you have another questions that's not answered there, please ask us in the comments to this Update and we'll do our best to answer them!
WHERE'S MORE INFO ON THE NEW CONTENT?
It's coming! The reason the campaign is on June 6th (instead of right now) is twofold: We need the games to reach the hubs for Gamefound to allow us to officially launch the campaign. But also we need sufficient time to organize the new content to present it for you all, as well as time for people to subscribe/follow the campaign page. We promise more info is coming, but our graphic designer needs time to put it all together!
What we can tell you is that the new content will be called The ICE Companion Set, and it will include TWO 13-card booster packs and ONE Edifice tile:
— Booster Pack One: 7 Guild Favor cards (a new card type!), 5 new Request cards, 1 new Decree card. The Guild Favor cards are optional cards you can use in your ICE games: Each Day (round) players will choose a Guild Favor card that features a powerful ability from another Guild that you can use that Day.

— Booster Pack Two: 13 Edifice cards that match the (now) 13 Edifices. These are cards we were already planning to produce for when we launch the next campaign for ICE, that we are now offering earlier. There are many useful ways to use these cards right now (and with future expansions), and we will explain more about how they can be used on the campaign page in the coming weeks.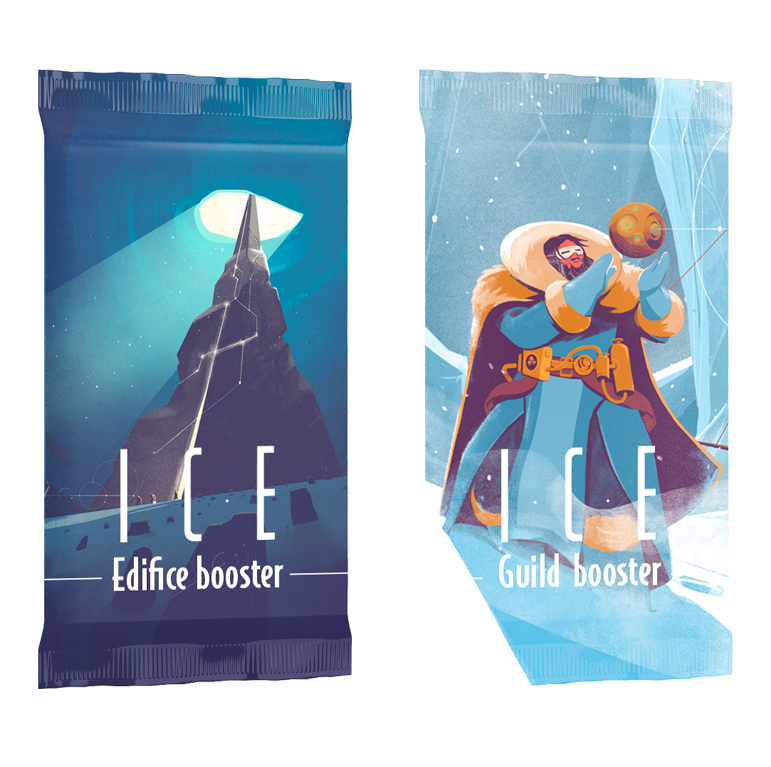 — One new Edifice tile that offers yet another alternate way of playing ICE when discovered.
The Companion Set will be priced at 25€.
For various reasons (logistics, simplicity, the assurance that the campaign is successful, etc) we will not be offering the booster packs or Edifice tile separately. We will have much more info and a sneak peek of the Companion Set soon. Following the Gamefound page is the absolute best way to learn more about it, as we will post a pre-launch Update there soon with more info. We thank you for your patience!
SHIPPING UPDATE
The ICE games are still on their way to the various international shipping hubs, and as mentioned in the last update, the need for the support campaign in the interim will likely necessitate another small delay in the shipping schedule of a couple of weeks, which means we expect deliveries to backers to occur in July now (as told to us by our fulfillment facilitator).
A WARNING OF FUTURE EMAILS YOU MAY RECEIVE
We just wanted to warn you all in advance that you may get a direct message via Kickstarter by the end of this month that will seem very similar to this one. We apologize in advance to all of you who indeed read everything that is sent to you! But we've learned (and it's been verified by other creators) that not everyone does.
Some backers ignore KS Updates altogether, while others might ignore direct messages. (And some ignore both, and the only way to reach them is by hoping they learn about the support campaign via our newsletter or social media accounts).

Basically, we need to get the message out in as many places as possible to make sure no one is potentially left out of the news. We hope you understand this, and don't see this as us spamming you with the same message again and again. For some of you, it may appear that way — but it's just us ensuring that ALL potential backers become aware of this very important campaign. Our apologies in advance!
We're going to try and space these messages out and hopefully have some new info available each time so they will at least offer something worthwhile.
Thanks so much for the many messages of support we've received already — it really means a lot to us that you are invested in This Way's future! 🥰 Great things are coming!
– Team This Way!