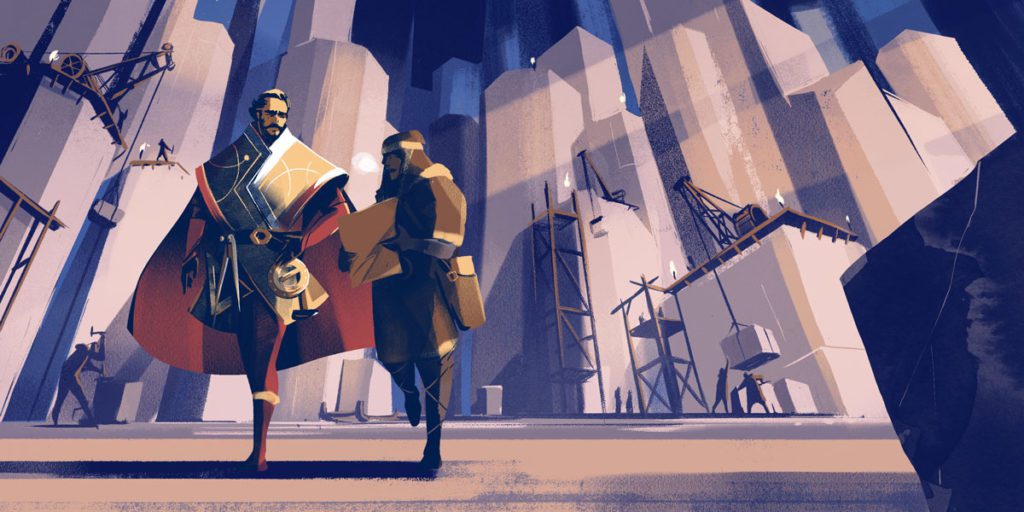 EXPLORERS OF ICY LANDS, ❄️
While the wise men of the City were meeting within the council to define the resolutions to be kept for the coming year, the great archivist got his hands on a manuscript written at the creation of the City 3 centuries ago…
---
JANUARY 4
---
⟴ The first foundation works have finally started! What a joy to see this ice forming the future cavities of our buildings and also to discover on certain excavations the exposed rock! The compass was not mistaken… Who knows what discoveries we could make in this place whose myth is built day after day…
Maître Lahuàn (Cryoarchitectes ❄)
---
Happy New Year, Explorers! 🥳🎊🍾🎉
We hope your holidays and start to the new year have been fantastic. 😊
In this first update of 2023, we will give you our latest production news and delivery estimates, a sneak peek of the insert for ICE, and our thoughts for the year ahead.
THE LAST PIECES OF THE PUZZLE
Mass production for ICE continued in December and the final parts we needed to complete the full ICE package were approved.
A sample of the ICE ART BOOK was sent to us, and you can have a sneak peek of it in a video at this link.
We are very happy with how it turned out!
With all the other components approved and sizes in place, we were also able to finalize the ICE insert, which was the last thing we needed to work on. We are extremely happy with the design of it by Matt Healey, which organizes all the many components so beautifully.
Please read our interview with Matt HERE where you can learn more about what else Matt has done, what goes into designing a boardgame insert, and his thoughts on what we can do for future games as we plan to go into more eco-friendly production as a company.

DELIVERY STATUS UPDATE
Many of you expressed how pleased you were to hear from our Panda Game Manufacturer contact Tyler in last month's Update. But some noted the lack of any real delivery news. That's because we didn't have enough real concrete news at that point (though apparently there was another Covid shutdown during this time). However, now one thing is definitely clear: With Chinese New Years happening earlier in 2023, the games of ICE will not be able to be assembled and shipped out on boats (which will make their long journey to distribution hubs) in time before this major holiday, which means the extra month of waiting (as we warned in Update #36) will indeed happen.
In talking with our fulfillment partner, Synergy Games, they have now given us a more accurate look at when games can be expected at backer's doors:
Mass Production continues (with a month off for Chinese New Years): Through March
Final assembly and shipping to hubs: Mid-April
Arrival to hubs: May
Delivery tends to commence roughly within 2-3 weeks after arrival, and can take various amounts of time to be delivered to your door, all depending on which hub is sending your package and where you are located.

If you know your delivery address is changing soon and you have not updated, please go to your Gamefound account and update it for ICE as soon as you can. But do not worry if you plan to move later and don't have an exact address yet. We will send out a final call for updated addresses by the end of March.
PLAYTESTING FOR FOUNDERS RESUMES
With the major holidays behind us, we will be resuming playtesting for FOUNDERS on Tabletop Simulator. If you're interested in playtesting, please let us know your availability on Discord.
Don't forget: Our monthly FOUNDERS Giveaway will continue until the campaign's launch in Q2, so make sure to subscribe to our newsletter (if you haven't already) for your chance to win!
THE YEAR AHEAD
We at This Way! are very excited for the year ahead, as many important milestones await in 2023:
ICE will get delivered to backers! 🎉
The FOUNDERS campaign will launch on Kickstarter! 🚀
We will slowly grow This Way!'s presence at more conventions.
And before the year is over, you will all learn more about our plans for ICE 2.0 and a new expansion, and possibly the 3rd title from This Way!
We want to thank each and every one of you for being such a fantastic community of backers, and for your infinite patience as we learn the ins-and-outs of boardgame publishing. We were definitely quite ambitious with our first title, and it's taught us many important lessons — but that just means we'll be even more ready to tackle any new challenges ahead.
Here's to a fantastic 2023! 🥂