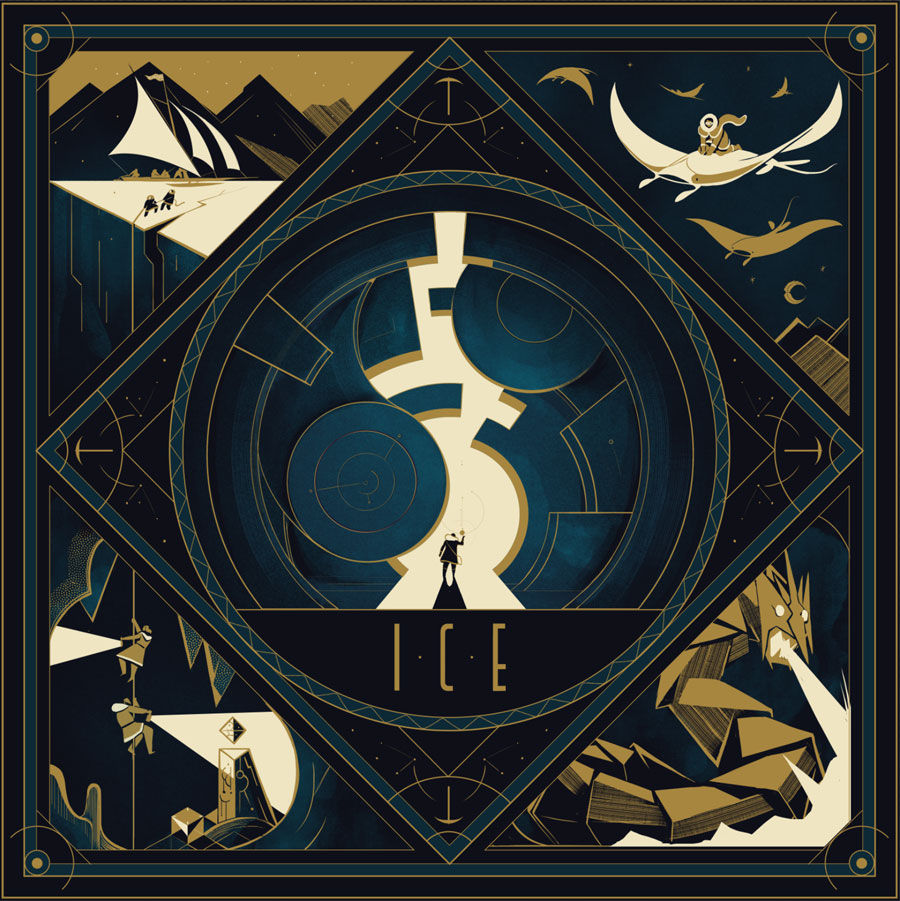 ---
MAY 22
---
Welcome EXPLORERS! ❄️
We are so happy to have you all here for our "ICE Limited: This Way to the Future!" campaign launching in 15 days! 😊
This is a very special 8-Day support campaign that will serve many important purposes, and caters to various people:
➡️ Previous backers of our ICE Kickstarter campaign (with new content!)
➡️ New potential backers who just learned of the game or maybe missed out the first time, and are hoping to snag one of the limited copies of ICE.
➡️ Art admirers of the fantastic illustrations of Léonard Dupond!
You can read more about why we're doing this flash campaign HERE. And a lot of questions you have might already be answered in our F.A.Q. We are still finalizing some details for this campaign, as we await final quotes from our Manufacturer on some items, and graphic assets from our designer Alexis Vanmeerbeeck — so stay tuned for more details in our next Update before launch.
In the meantime, feel free to read this entire Update, or just skip to the relevant sections that pertain to you!
🆕 FOR NEW POTENTIAL BACKERS — LIMITED COPIES OF ICE!
You may have seen or played ICE at Essen Spiel or Festival International de Jeux in Cannes, or you follow us on one of our social media accounts, or came upon this campaign by browsing Gamefound. Or maybe you were aware of our first Kickstarter campaign, passed on it, and now regret it. However you came to us now, we're super happy to have you! 🥳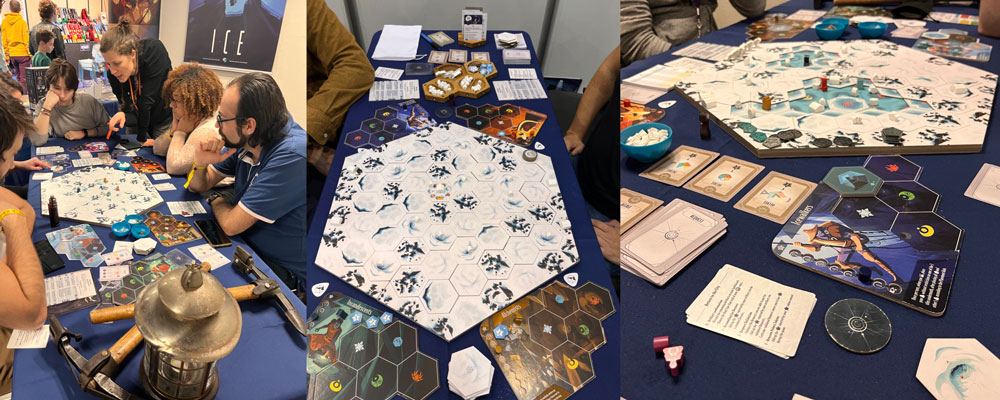 We recently made the decision to sell our remaining limited stock of ICE to help with shipping the first wave of games to backers. It has not been an easy road making this incredibly unique, one-of-a-kind game, and we definitely faced more obstacles than most. But the games have been produced, look amazing, and are ready to ship! That means if you end up being one of the lucky ones who are able to get a copy in this campaign, your game will ship only a few weeks after the original backers get their copies (current estimate for them: July. So likely August for you!).
However it's important to note that there's an extremely limited amount of copies left. We have less than 300 available among the four different versions: Core (standard) and Collector (deluxe), each in English & French.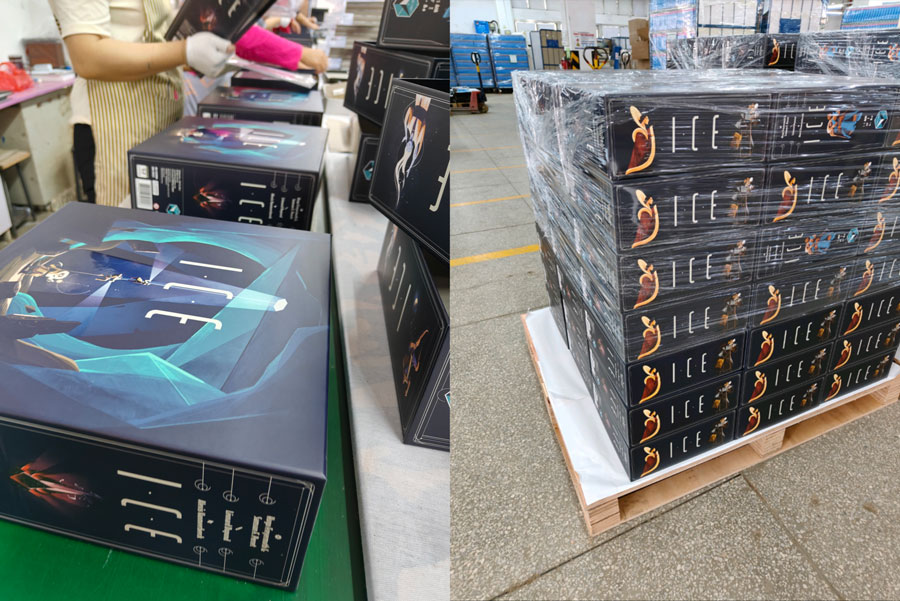 Here is an exact breakdown of our copies so you can get a better idea. (Note: Each of these pledges containing the game will also be bundled with the new Companion Set — more on that further down in this Update):
Version / Quantity Available
ICE Core box (English) – 11
ICE Core box (French) – 42
ICE Collector box (English) – 195 *
ICE Collector box (French) – 43
* IMPORTANT NOTE: That 195 quantity of the Collector (EN) edition will be further split amongst two different pledges. Our current plan of how we may distribute these copies is below, but we'd love to hear more from all of you about what you think:
— The game (+ Companion Set) all by itself (which is exactly how the other three versions will be presented): we are considering allocating 45 copies for this.
— A "Hero" pledge that will be an almost "all-in" featuring ICE Collector (EN), The Companion Set (new gameplay), Artbook, Mini Poster, and Postcard Set (more about these below) — all with a special price that, together, will have a small discount than what the items would normally be if gotten individually. Plus, backers of this pledge will have their name featured with special "Hero" status on our website: we are considering allocating 150 copies (of the 195) for this very special pledge.
Why are we distributing the copies this way, with more going towards the Hero pledge? It's simple — people love all-in type pledges, but we also really need this campaign to succeed in the best possible way. And the new art items need to be printed with a minimum order quantity to make them worthwhile for us to do.
The selling out of these last ICE copies alone will allow us to ship the games to original AND new backers before Summer is over. But funding further beyond that (which the "Hero" pledge and new Companion Set for original backers will help in doing), actually ensures This Way! also has a long future ahead as well. Which is important! We want to continue making new games, expansions for ICE, and more — and that's why it's necessary for us to keep the distribution of Collector (EN) copies among the two pledges this way.
We are making the Hero pledge as great a value as we possibly can, and we want to make sure you are immortalized forever as a Hero on our website as a special thanks!
We realize not every person subscribed to this campaign, hoping to get one of these limited copies, will actually be able to get one. We're expecting these copies to sell out quickly (whether it's within a few days, or within minutes, we're not sure). But if you miss out, please don't be sad — a new ICE campaign will be launched in 2024 (along with a new expansion), and you'll have another chance to get the game (unlimited this time)! (Please note, that the next iteration will be different in terms of how it's produced, and may be broken down differently — but the gameplay will be essentially the same in the end).
This next section of the Update is geared towards our original backers, but it talks about the new gameplay content that is bundled with each ICE pledge, so you may want to keep reading!

😎 ORIGINAL ICE BACKERS — NEW GAMEPLAY CONTENT!
Hello again! 👋
We can't say this enough, but we love our original backers so much! YOU made ICE a reality, and we will be forever thankful to you all for making this happen. We know it's been a long road to getting to this point, and we sincerely appreciate your patience and continued support. We honestly have the best backers in the world! 😊
We promised you that participation in this campaign was optional, and we are sticking to our word — your games are headed your way no matter what. But we assume you're following this support campaign because you're curious about the new gameplay content. Well we wanted any new stuff to be worthwhile, and irresistible enough that you'll want to help out and back it anyway!
In that regard, we created The ICE Companion Set! You may have already read that it will contain TWO new 13-card booster packs, as well as ONE new Edifice tile. These all feature the wonderful existing art by Léonard that you know from the player boards and Edifice tiles, but now in the form of cards! More info and image renders will be revealed before campaign launch, but we can give you some details now: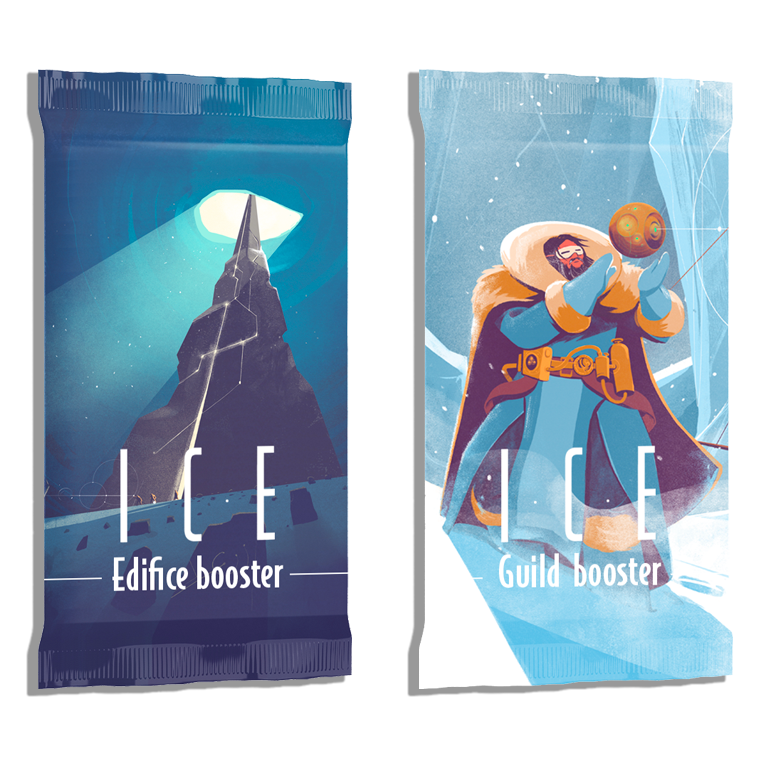 ➡️ The GUILD booster pack — Not only does this pack feature 5 new Request cards and 1 new Decree (all give new scoring conditions), but it also features 7 Guild Favor cards (a new card type!). Guild Favor cards can be added to any game of ICE for some extra variety and strategic gameplay. Players choose a new Guild Favor card each new Day (round), and during their turn they can turn the card over to use that card's special action. These can have a special synergy (when using a Favor card from the same Guild you're playing), or allow for special combos when playing Favors of other Guilds. In fact, it's possible to experience a taste of every Guild of ICE in a single game!
➡️ The EDIFICE booster pack — We were already planning to produce these cards for when we launch the next campaign of ICE, but now we are offering them even earlier! As you know, Edifices are the final layer of tiles in the game, and when you discover one it offers a special variant for your next game. But there was no easy way to track this before. Now with the Edifice deck, you have three useful ways to use these cards:
— As a displayed reminder of which Edifices you have discovered in previous games, to know which game variant is now in effect.
— To randomly choose which Edifice(s) you'll play with in your next games (if you've discovered several, and only want to use 1 or 2).
— As a way of choosing an alternate Edifice, if you excavate one you've already uncovered previously, and would like to play with something new.
The more games you play of ICE, the more you'll realize just how helpful these cards can be. And we may even have further uses for these cards in future expansions as well!
➡️ One new EDIFICE tile — You'll have one more potential Edifice to discover, and it offers a variant effect we've already been using in many demo games at conventions, that…well…we won't spoil it for you here. 🙈 But it can make for some crazy fun games!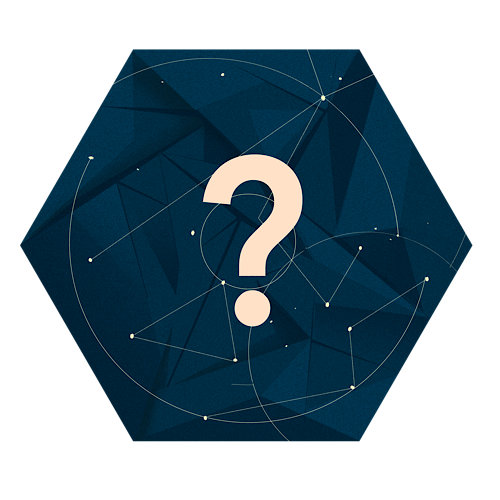 If you read the section above for new potential backers, you'll notice we mentioned a "Hero" pledge. Don't worry, we haven't forgotten our original backers! We will also have a similar all-in type pledge (also limited to 150, but without the game of ICE), that gets you everything else bundled together at a special price, and also includes the "Hero" status on our site!
👨🏻‍🎨 ART ADMIRERS — BEHOLD THE WONDERFUL ART OF LÉONARD DUPOND!
There's no question that a large part of the amazing success of ICE is due to the stunning artistry of Léonard. We are so thankful to have his amazing illustrations for our first two games. (Have you seen what's he's been creating for FOUNDERS? We're blown away!).
So we wanted more ways for fans to showcase his art! We already created and offered to previous ICE backers this item:
➡️ The ICE Artbook hardcover. We'll be providing a digital version as well, which you can get separately for a low price, or free with the hardcover version — (which previous backers who got the Artbook will also be receiving).
[Add Artbook image]
In addition, we'll be offering a set that's only been available at conventions so far:
➡️ Poster Set (of 3, A3 size) — Three of our favorite Léonard images.
Plus, a brand new item:
➡️ Postcard Set (of 5) — featuring the Guild locations that will be featured in our next game, FOUNDERS. We've already selected our favorite images, though we'd love to possibly do a poll and see which ones you all prefer.
❗️TO ALL BACKERS
We have one more item we will be offering here on Gamefound! As you may have noticed above, we mentioned the "Hero" pledges were an almost All-in pledge. They do not contain the following item, which can be pledged on its own (if you're not interested in any of the above), or as an add-on.
➡️ FOUNDERS Support Pledge — For those who are planning to back our next game, FOUNDERS! When choosing this add-on now for 15€, you will get a $17 discount applied to your future FOUNDERS pledge. (Yes, the currency will switch to dollars for out next campaign — so to make sure there's nothing lost in the exchange for backers, we are going by current exchange rates and rounding up). This discount will be added to whichever pledge manager that we end up using, so it's important that if you plan to get this add-on, that the email that you use between ALL platforms (Kickstarter and various pledge managers) is exactly the same so we can properly apply this discount. If it's different, though, no worries — just please let us know so that we can manually add this discount for you!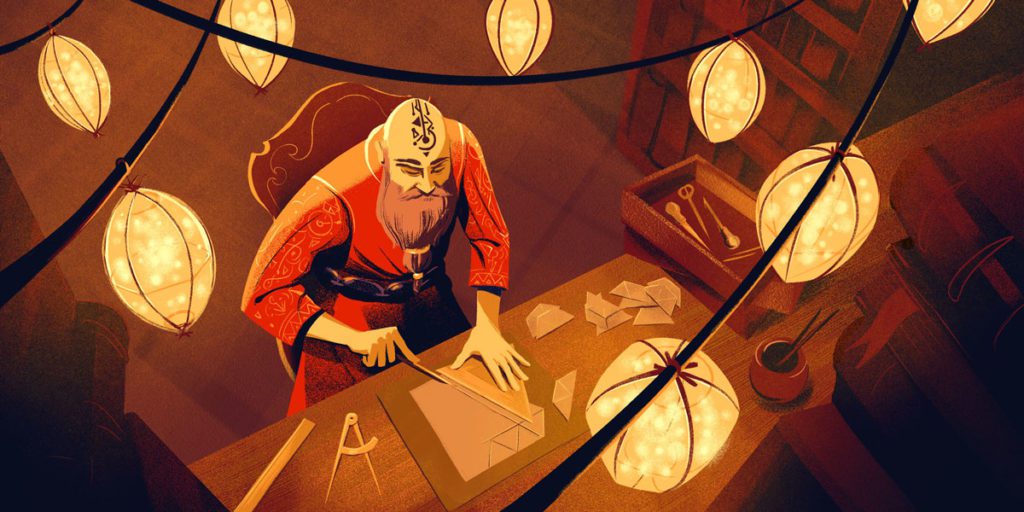 We will be back for at least one more Update before launch, with all the final information you will need for this campaign in order to make an informed decision on which pledge is best suited for you.
As a reminder, our F.A.Q. is filled with answers to possible questions you may have. But if you don't see your question answered, please don't hesitate to ask us in the comments, we will be happy to answer!
Thanks again for all of your support!!
– Team This Way!