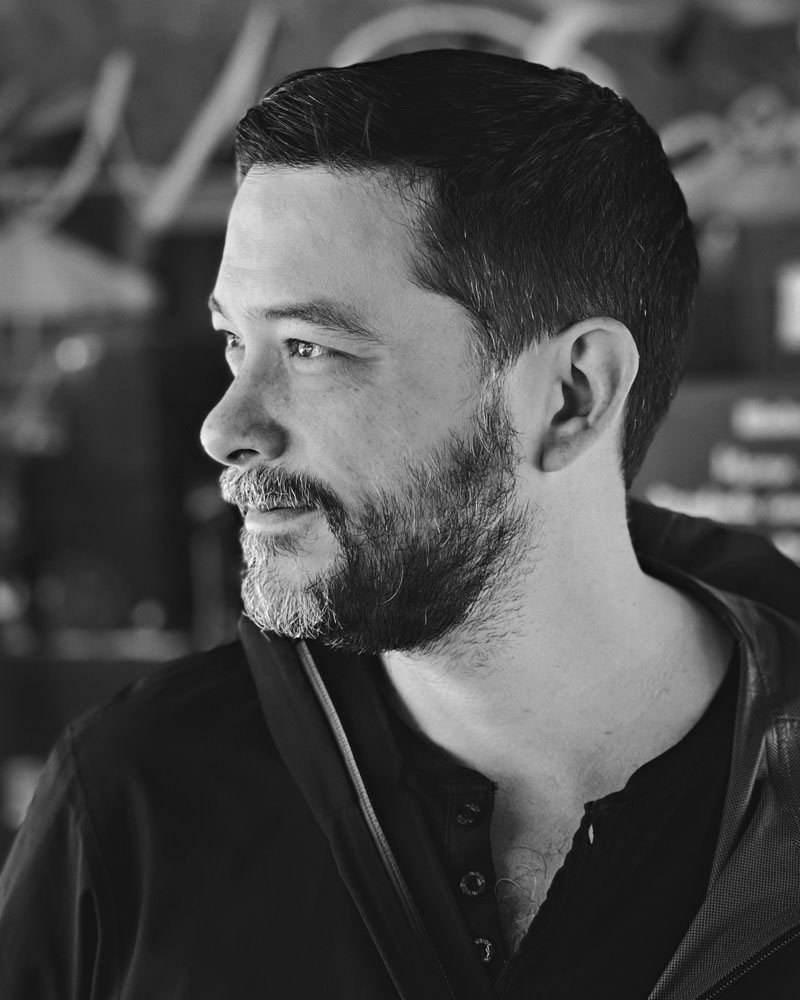 Hello Explorers.
It's Hugo Freyermuth & Samson F. Perret this time, and now it's our resident Head of Communications Anton Kawasaki's turn to be interviewed! Finally we're going to learn more about the man "behind the camera," who has already interviewed almost the whole team!
Anton has clearly had several lives before he met us. He owned and ran a comic book store, he worked at DC Comics for over a decade, he became one of the pioneers of "mobile photography," and is currently a web designer, community manager, writer/editor, playtester, rulebook proofreader, and much more. That's a lot!
THIS WAY: Let's start at the beginning. When people meet you at conventions, they might be surprised to see you in crutches. We've heard the story of why, and thought you might want to share…
ANTON: Sure! When I was 19, I had an accident: I was climbing in a place in California called Vasquez Rocks with friends, but I wandered off alone at one point and ended up falling off a cliff (which was apparently the height of a 4-story building), and severed one of the bones in my spine. Although when it happened, it felt like every bone in my legs had turned to powder. I wasn't found for at least 45 minutes (which felt like hours), and I was alone but conscious the whole time. As I laid there, I imagined the absolute worst: that I was either going to die, or at least my legs would be amputated if I lived. When a friend finally found me, it was still a couple of hours before I could be helicoptered out to the nearest hospital — where they removed the broken pieces of my spine and later did a spinal fusion.
Most people would think this would be a very tragic moment in my life that I wouldn't want to talk about, but…
I have always viewed it as one of the best things that probably ever happened to me.
Let me explain…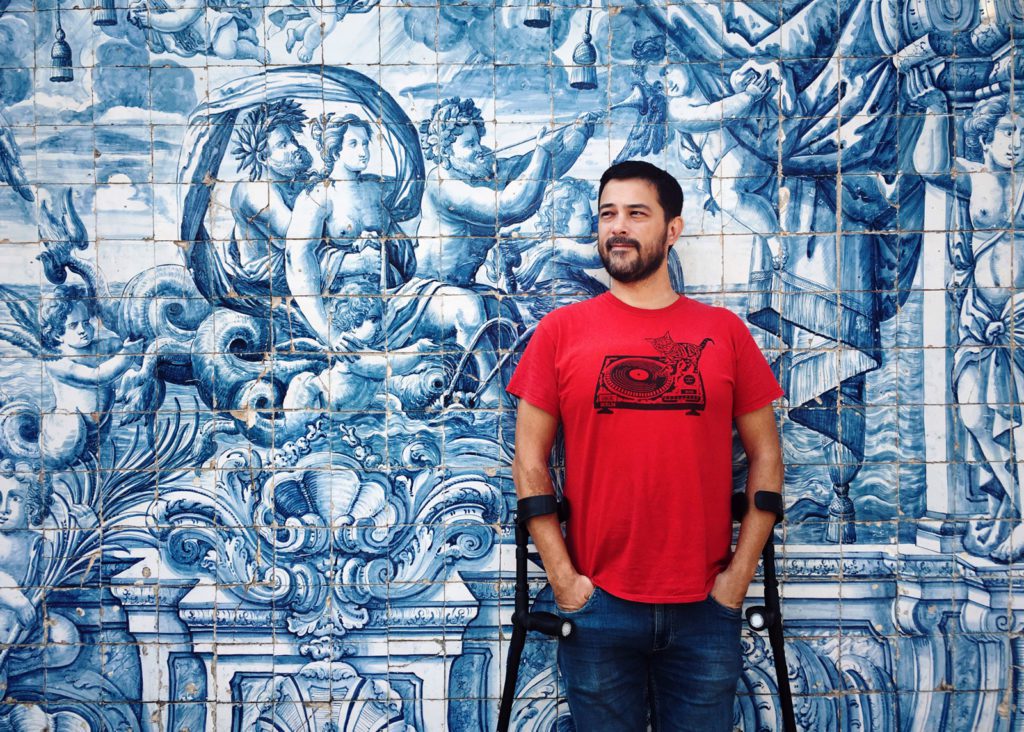 I was living (quite unhappily) in Los Angeles at the time, and felt like I had hit a wall in my life at a young age. I was very unmotivated in terms of my path: I couldn't afford to go to college, I couldn't keep a job, and I felt like I would always live in this city that I very-much hated (and felt like I didn't belong), and would probably never find any work that was remotely fulfilling. I had dreams of living in NYC (where I was born, and lived a year when I was 14) and desperately wanted to work at DC Comics. But I saw those dreams as pure fantasy — something that could never ever be achieved by someone like me.
But when the accident happened, and I was stuck in a rehabilitation center afterwards for almost 9 months, and the doctors (at the time) said I would most-likely never walk again and be wheelchair-bound forever, well… my attitude changed completely. There are many people in this situation who (not surprisingly) fall into deep depression, becoming obsessed with what they can no longer do in life (and I definitely saw that with many other spinal-injury patients in the rehab center I was in). But I already felt like I was at my lowest point in life anyway, and so…the only place to go from there… was UP.
I became obsessed with thinking about the things I could still do, and was determined to focus on the positives in life. These were feelings I never really had prior to that moment, but they have never ever left me since. Within a year, I was walking again, now with crutches (which I've had ever since) — but I've been told often I would probably not have gotten that far if it wasn't for staying positive and believing I would walk again.
Had the accident never happened, I'm absolutely certain I would still be in L.A., working a dull job, with a dull life, and just… "existing." But since my accident, a domino series of events got triggered that has led to some interesting life events: First, someone approached me on the street (specifically because I had crutches) because he was wiring a script with a disabled character. I befriended this person who then took me to a party in Hollywood where I met someone who ended up becoming my first long-term boyfriend (of almost a decade). This person (now my ex, but who is still like family) was offered a film job in NYC (my dream city) and asked if I would follow him there. I said "Of course!"
My ex's career really took off, and suddenly I found myself traveling the world, and attending events like the Academy Awards and Golden Globes. My ex had a strong work ethic that made ME super motivated too. I soon ended up owning my own business, something I never dreamed would ever happen, or that I thought I could even be capable of doing before. And living in NYC meant I could finally pursue my "dream job" at DC Comics which I did for over a decade. Then there's all the traveling I did (first with my ex, and then by myself, which I was too afraid to do before). One of those trips, after my ex and I broke up, led me to Spain — where I met Sion, who is now my husband. We've had a ton of amazing adventures together since. And now (after living 20 years in NYC, the last 10 with Sion), I've been living in Barcelona for the last 6 years. I've always wanted to try living in Europe. And now I'm working another dream job… in boardgames!
When I look back at my life since my accident, it's a bit crazy, and something I never would have dreamed would be possible for the sad Anton who was living in a city he hated and felt absolutely hopeless in.
And it's all because I fell off a cliff…
I now celebrate the day I fell as an annual made-up holiday. ("Vasquez Day," after Vasquez Rocks).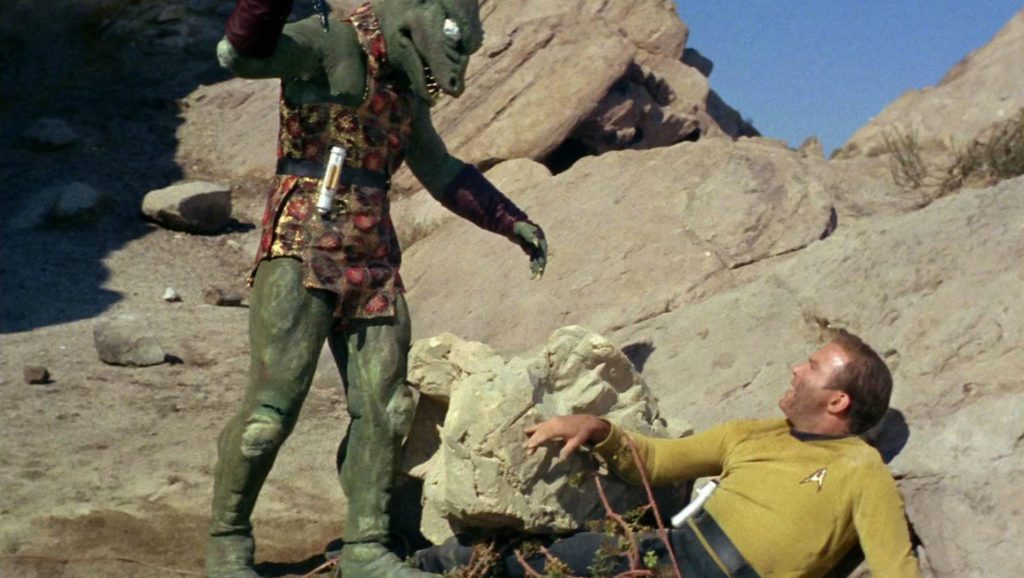 Obviously I don't recommend that people break their backs to discover a better life for themselves 🤣🙈, but I always recommend: making big changes and taking chances, staying positive, pursuing your goals, looking for the good that can come out of bad experiences, switching things up whenever possible, and never ever giving up.
THIS WAY: How did you join the DC comics team? I know you were an editor with them, but what exactly did you do?
ANTON: DC Comics was literally my dream job for so long, and when I moved to NYC I was determined to eventually work there. I applied for a few positions as an Assistant Editor, and I came VERY close (2nd choice multiple times) for many of the jobs. The Editors were quite impressed with me and really loved my passion, enthusiasm and knowledge — but I think ultimately my physical disability proved to be a handicap (pun intended), as the jobs required a LOT of carrying stuff around (especially large art boards).
While I had my own solutions of how I'd be able to carry stuff, I think they didn't want to take the risk with me — which I completely understood, even though I was devastated at the time. But I never gave up…
Around the same time, I had started a comic book club in NYC that would meet regularly every week — and one of the attendees actually owned a comic book store about an hour outside of the city. One day he told me he wanted to sell the store, as he was becoming a teacher. Out of curiosity, I asked him how much he was selling it for (thinking it would be way too much). When he told me the price, I realized it was something I could (almost) afford! I was eventually able to get some loans from family/friends — enough to buy the store and take it over. I figured if I couldn't work at DC, I would at least still be in the comics business this way.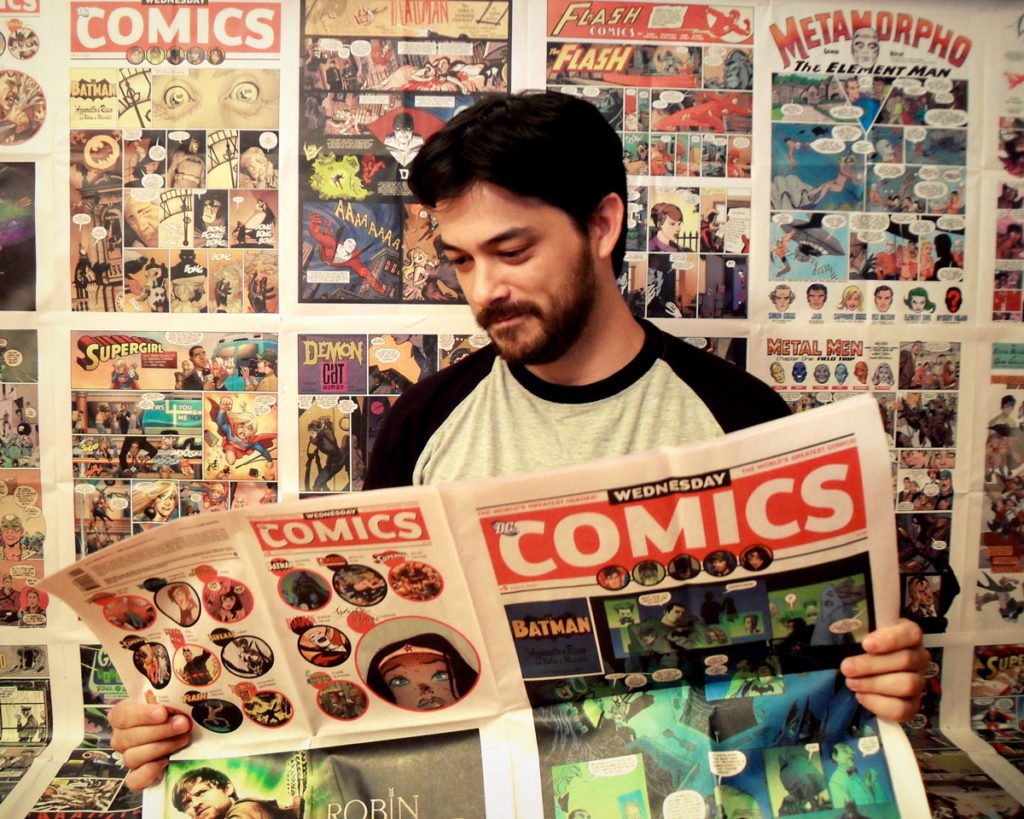 But I had nooooo idea what I was doing at first. 🙈
I never took any business courses. And the previous owner did not do a great job with the store (which had some debt — hence, why it was probably so cheap, I later learned). At first I thought I had made a big mistake and would end up losing money or going further into debt. And because I was worried about expenses, I didn't hire any employees — and so I ran the store completely by myself for a full year and a half. It was a really scary but exciting time, and I learned so much — eventually figuring out what it took to finally make a decent profit, start paying back the loans and make an actual living!
JUST when I finally starting getting a handle of how to do well as a comics store owner, one of my best friends (Phil Jimenez, a well-known comics artist) told me about a new position available at DC Comics. While the comics store was finally doing great and I was having fun, it still wasn't my dream — which was working at DC. So I applied for the position (which was as DC's Marketing Writer — creating articles that would talk about/hype their upcoming titles), and ended up having one of the best interviews ever! The fact that I was a comics store owner was actually a bonus for me being hired, as I had the same mindset of the other store owners who would be perusing the catalog to order these books.
DC wanted me immediately! But… I needed to let go of the store as it would be a conflict of interest. So I gave up the store (which would probably have made me more money), and pursued the DC job. I was their sole marketing writer for nearly 3 years, but it still wasn't quite my dream position (which was editing comics). Unfortunately while my business skills helped me land the marketing job, they worked against me for the Editorial Department — as the then-VP of Editorial thought that owning a store meant I was "too much of a fanboy" to do the job well. It was frustrating to learn that my love for comics, and taking over the store (which I did because DC wasn't hiring me previously), actually now worked against me editing comics, but that's how the business worked then… 🤷🏻‍♂️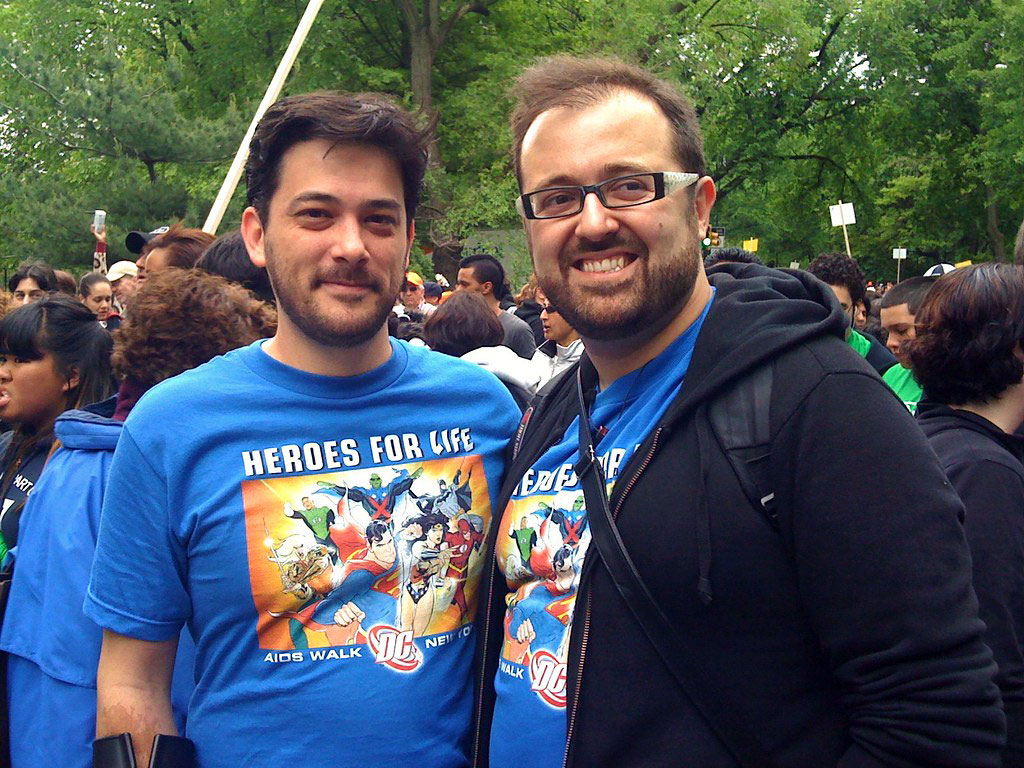 Still, I was doing a good job as the marketing writer and other people at DC noticed. The Collected Editions department (which collect several single issues of comics together as attractive trade paperbacks or deluxe hardcover editions) approached me to be an Editor for them. It wouldn't be creating much new material, per se, but at least I could finally have a title of "Editor" at DC, which could lead to other things. But once again I would be taking a pay cut in order to be a little bit closer to my dream. (For some reason the most desirable positions at the company paid the least — go figure 🤷🏻‍♂️). And taking pay cuts to get closer to what I really wanted to do would end up being a continuing tradition in my life…
I continued working as an Editor in that department for another 7 or so years (winning a couple of Eisner Awards along the way — the "Oscars" of comics). And I honestly thought that I would be at DC forever! Unfortunately the company started making their long and very slow move from NYC to Los Angeles (a place I had no desire to ever live again). Additionally, the last couple of years there my department ended up getting a new boss who — while pleasant outside of work — didn't seem to trust his new team, and turned my job from the "best ever" to "kind of a miserable experience." So when my department was restructured due to the eventual move West, and some staff was let go, it was probably the right time to say goodbye…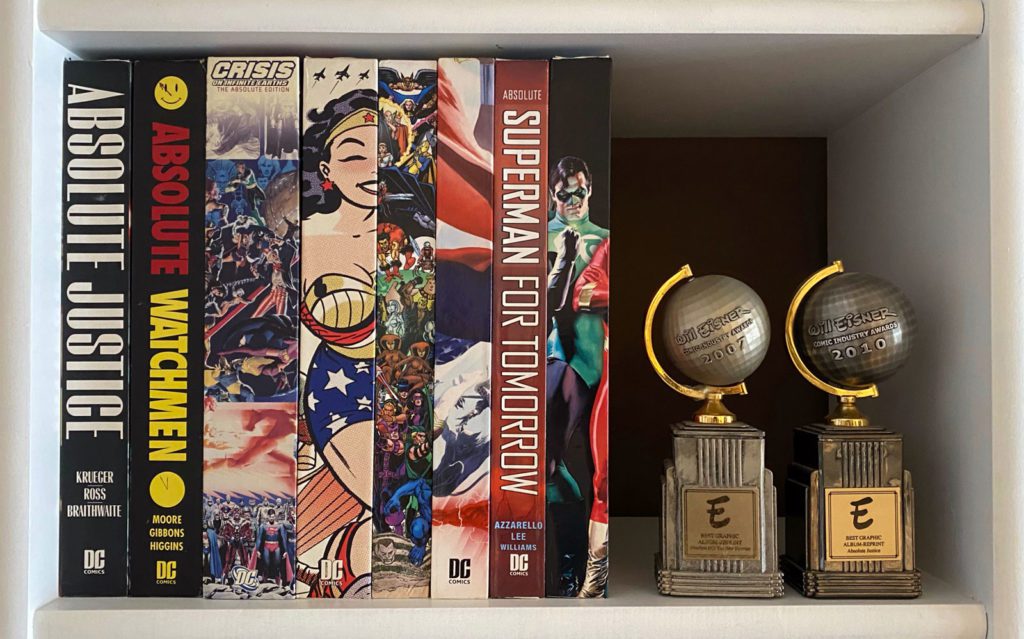 While I miss my time in comics, that industry has changed so much. That same passion I once had for comics has now changed to an equal (if not more so) obsession with boardgames….
THIS WAY: You also have an instagram account as a photographer (@anton_in_nyc) with over 80K followers, that's huge! How did you end up walking the streets of New York to photograph its inhabitants?
ANTON: It all started with my husband, when I gifted him an iPhone for his birthday. I had gotten the first generation version (as I am an Apple devotee), and I could tell he was jealous of it — so I got him the 3G version when it came out. He immediately started using it to take pictures, but I honestly didn't consider the iPhone as a "good" camera at the time (in terms of "quality").
But then I saw the kinds of pictures he was taking, and I was really impressed. As we both learned (and eventually taught in a workshop) later on, it's NOT about the device you shoot with, but the "eye" you use that ultimately takes an interesting photo. A mobile phone is actually the perfect device for "street photography" (my absolute favorite genre of photos) — because you can get up really close to subjects without them knowing and take "candid" photos of real life moments. Something that's hard to do when you walk up to a subject with a big "obvious" camera.
A sampling of Anton's early mobile street photography (click to see full size)
There was a time that I didn't think photography was something I could ever do, as the idea of carrying a big heavy camera around while using crutches didn't seem that appealing. But with a mobile phone, it was something I could easily carry and take photos with one-handed (while holding the crutches with the other hand).
My husband and I ended up becoming two of the very few early pioneers of the "mobile photography" movement, which is how we both ended up with so many Instagram followers. We also ended up on Instagram's "suggested follower" list when it used to be a thing in the early days — which made our accounts explode. So much so… that we actually wrote Instagram to take us off that list (probably the only people to ever do this), because it was becoming too distracting. 🙈
My interest was solely taking photos of the unique characters of NYC, and the "storytelling" moments that would occur for only an instant. While I don't think I was doing anything groundbreaking, I was good at "curating" my work — and I became known for quirky characters and a sense of humor or pathos in many of my photos.
We ended up becoming part of the first Mobile Photo Group collective, and got featured in magazines and exhibitions, and appeared at Apple Stores as featured guests. I had my own solo photo show at the Haus of Hipstamatic (one of the early and successful photo apps) in San Francisco which they flew me out to. I wrote mobile photography articles for popular photography sites. We had paid photo gigs where companies specifically wanted us to use the phone for "instant" publication. We even launched one of the first mobile photo workshops online, and had sold-out classes each time. It was really fun teaching students around the world how to take the best photos with a mobile device. There were a few years there that I thought maybe I could make an actual living doing just photo stuff.
Apple Poster for in-store talk
Hipstamatic Exhibition poster
Out There magazine article
But…. that's all mainly in the past! 🙈
I haven't posted to my street photography account in quite a while, which people think is absolutely crazy. They assume that with a big following, you have to constantly feed it with content. On the one hand, I resist that mindset wholeheartedly — I don't want to be a slave to my high follower count (which could have been 4-5 times bigger had we not asked Instagram to take us off their "suggested" list). And on the other hand, I just haven't been taking as many street photos lately…
I mostly blame that on the fact that phones keep getting bigger and bigger in size! 🤪
I can no longer point AND focus/expose a picture with just one hand. I now have to stop and use two hands, which becomes an obvious gesture and betrays the "sneakiness" I used to have with my one-handed photo-taking. My interest is in candid photos, so… when that became more difficult, I stopped taking as much photos as before (though I still do on occasion — I just don't post them). And yes, I can just get an iPhone "Mini" which would solve my problem, but then I'd miss that bigger screen for the rest of the time I'm on the phone…. 🤣
Moving away from NYC also made a big impact on my photo-taking. The streets of New York are a street photographer's paradise — and most other cities just can't compete.
But anyway, now when I see a really great moment on the street, and I'm with Sion, I simply point it out to him so he can take the photo instead! It's more important that someone captured it — it doesn't have to be me. Sion's photography has continued to grow and take off, and he was even featured in his own 30-minute TV show episode earlier this year in Spain that focused solely on him and his life work. I couldn't be more proud!
THIS WAY: It is you who created this magnificent website on which these lines appear. Another field quite different from the two others mentioned above. What led you to this new profession?
Some select websites by Anton
ANTON: After my bad experiences in the final couple of years at DC (having a terrible boss), and another short-term job afterwards at a tech startup where I did my first social media community management work (but also had horrible bosses that just didn't know what they were doing), I decided I just didn't want to work for anyone else for a long while. 🤣
So that's how I ended up in web design — where I could choose who I work with, and basically be my own boss. I had always had interest in all types of design, and had collaborated with graphic designers a lot at DC, instructing them what I wanted. But the idea of web design (which was more flexible and constantly evolving) really appealed to me. I took some courses but mostly self-taught myself, and started with making websites for friends and organizations that I was a part of, and it grew from there. The majority of the work I have gotten is by word-of-mouth, or me offering my services to people who I see desperately need a website. I have never needed to advertise. 
After doing it for years, I've really grown to love the flexibility of being able to work anywhere, and (mostly) on my own schedule. I can accept (or decline) new projects as I see fit, and it's been wonderful having that kind of freedom. I honestly don't know if I could ever go back to a a regular 9-to-5 "office job" again. (It's been a dozen years since leaving DC!).
---
Click here to read PART TWO of this interview, where Anton discusses his passions for boardgames (answering a quick round of questions about them), talks about how he became involved with This Way, tells us his 3 golden rules for communication, and what his future plans are!